1013B Majestic Sun Executive Getaway
Executive Beach Condo for Discriminating Guests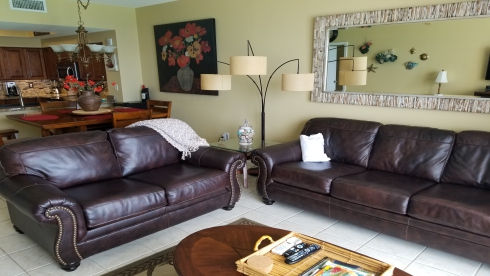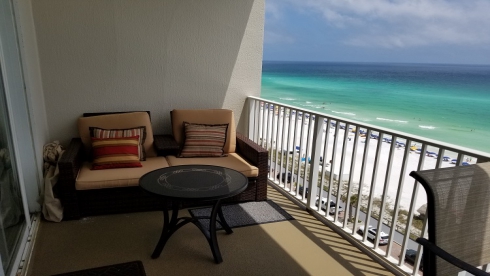 ---

My ECBYO Majestic Sun Listing
Description
Take your next beach vacation to the next level.  This beautiful two bedroom, two bath beachfront condo features everything you are looking for in your next getaway.  Located on the 10th floor, this Diamond Level unit is the largest two bedroom in Majestic Sun and offers spectacular views.  It has been fully renovated three years ago by the owners and used as their personal beach vacation home.  Granite counters throughout, top of the line stainless appliances, beautiful wood cabinets, fully stocked kitchen and high quality furnishings.  The Owners have spared no expense with flat screen televisions, surround sound, LED lighting, sleeps six comfortably and neutral tones throughout.  Large capacity stacked washer and dryer, new air conditioning unit and hot water tank.  The living room and dining room offer comfortable seating with upgraded furnishings and an adjustable 60" LED smart TV.  The Master bedroom has a large walk-in closet, 50" Flatscreen, armoire with plenty of storage including a safe for storing valuables, private large bath with dual sinks and king bed with access to the balcony with fantastic view overlooking the Gulf of Mexico.  The Guest bedroom has a unique reclaimed barnwood QUEEN bunk beds each with very comfortable bedding and flatscreen tv's.  Plenty of balcony space to stretch out along with a dual chaise lounge sofa, two personal recliners and a high-top table and chairs.  Breathtaking sunset views especially from the tenth floor.  This is NOT a high-turnover rental unit.  NOTE:  Our Condo includes our private garage parking spot - no worrying about limited parking.  Also included in the garage is a storage unit with four beach chairs and umbrella.  Majestic Sun is part of the Seascape Resort property in Miramar Beach FL.  Minimum stay during the off-peak season is three days and one week minimum during peak months.  Will consider five day stays depending on circumstances.  NO pets and NO smoking.  Minimum Age Restrictions due to HOA Compliance.
| From/To | Nightly | Weekend | Weekly | Monthly | Min Nights |
| --- | --- | --- | --- | --- | --- |
Credit Card payments preferred and accepted
Discounts may be considered for special occassions
Discounts provided for RETURN guests (10%) 
Discounts may be considered for extended stays beyond 7 days
Age Restrictions under 25 per HOA Covenants
NO smoking and NO pets
 
A beautiful place to stay during the holidays
Having lost a loved one recently we needed a place to getaway and enjoy some alone time. Dave and Aleta's wonderful condo was the perfect setting. The condo was beautifully decorated and very comfortable. As soon as I walked through the door, I felt a huge weight off my shoulders and was instantly relaxed and at peace. It was like home sweet home. The view is spectacular and getting to the beach was less than five minutes. Majestic Sun has a lot to offer and the pools were an added bonus. Thanks Dave and Aleta for such a wonderful time to stay in your beach home!
12/21/2017
Great time!
We have so enjoyed your beautiful condo. Your balcony furniture was so relaxing. Thank you! You two have such wonderful taste with the decor plus the stocking of everything your guests could need. Again, many thanks!
10/20/2017
Great time for our Anniversary and Birthday
Dave and Aleta, thank you so much for everything. We are building such wonderful memories each time we visit. This was the best anniversary / birthday ever!!! We are rested and rejuvinated and ready to head back to reality. Thanks for such a wonderful place to stay on the beach and hear the sounds of the surf, especially at night. Look forward to seeing you both again soon!
10/06/2017
Loved Loved Loved our stay!
Aleta and Dave, first we would like to thank you both for your service to our Country. We loved your condo! The view is absolutely amazing. Your decorations are beautiful. We will be headed back to reality, back to Ohio. But, we'll be back to sunny Florida in the future. Thanks so much, The Wyans.
08/13/2017
Amazing time!!!
Our family had an amazing time at this condo! The view is simply breathtaking and the girls absolutely love the bunk beds. The convenience of the area the condo was in helped to get to everything just by walking. Thanks for sharing your home with us. The Wallace Family.
07/24/2017
Beautiful resort with amazing views! The unit was gorgeous and had everything we could ever want!
This condo was absolutely breathtaking! It was by far more than I ever expected! The decor was gorgeous, the beds were super comfortable, kitchen was well stocked, bathrooms were very clean! Large televisions in every room, although we never turned them on, because we couldn't take our eyes off the views from the balcony. Words can't even describe it, you just have to see it! Whether you want to see the dolphins playing in the water in the morning, people watch, enjoy a meal, or just leave the slider open at night for the sound of the waves.... the balcony was the highlight of my day! The beach in front of the resort was gorgeous! I loved being able to walk there and being so close to the room we could run back and forth if we needed something! The owners parking spot is a little tight if you have a large vehicle, we have a Santa Fe, but once you get used to getting in and out, it was way more convenient than having to use the garage and walk the length of the property! My 9 year old son was in love with this condo. If he wasn't at the beach, he was in the pool! I can't say enough good things about our stay, we had an amazing time, and I am already trying to figure out when we can come back!

Submitted: Mar 30, 2018
Stayed: March 2018


03/24/2018
Great Condo!
This Condo was wonderful! Great location - super clean. Parking spot was a plus! Would definitely stay again.
03/30/2018
Girls weekend/Birthday weekend
Dave & Aleta, your condo is breathtaking! My second time staying there and I can't wait to go back. The girls and I had such a relaxing time. Everything you need is there and if you forgot something you can run downstairs to the gift shop. Beautiful view of the ocean across the street and walking distance to some amazing sushi. We also took advantage of the pool and hot tub??
04/12/2018
Wonderful Stay
We enjoyed our stay at your wonderful condo! You covered every little detail in the condo. The VIEW and location went above our expectations. Thank you so much!!! Go Buckeyes!
04/03/2018
Great Hosts!
Great location - we've stayed at Majestic Sun before. Great condo - the best we have experienced! Great hosts (owners) - they go far above expectations for their guests. Thank you!
05/17/2018
Unbelievable!
Wow, what a great time for my big birthday celebration. We had an unbelievable time in your beautiful condo! Every little detail in your condo is just perfect and it is beautifully decorated. The view from the balcony is stunning and the double chaise lounger was a blessing for taking long naps with the sound of the water close by. The beach chairs and umbrella was an added bonus and having a private spot to park was so convenient without hunting for a parking spot in the full lot. We had plenty of wine and enjoyed having dinner with you both! See you again soon!
04/28/2018
Beautiful Condo
We loved our time here! The view from the balcony is just beautiful. Thank you!
07/07/2018
Five Stars!!!
We loved your condo! 5 Stars! Love Destin. Weather was great. So nice of you to make parking spot available and the Welcome Basket. We'll be back!
06/23/2018
Beautiful Balcony View!
Booked through Trip Advisor.

We absolutely loved the balcony view! The furniture out there is fabulous! Great location. We had a groovy time!
06/16/2018
Go Bucks!
Dave and Aleta, we've been coming down to this area for many years and had our most special wecome staying in your place! Perfect location and the condo is fantastic. We've built new and special memories here! Thank you and hope to stay here again. Go Bucks!
06/09/2018
Awesome Vacation!
Awesome vacation and great condo! Our family loved the ocean and pool. We really appreciated the "extras" you provided with your beautiful condo: beach chairs, umbrella, parking space, beach towels, etc. Thank you!!!
05/20/2018
Memories will last forever!
Loved the unit, Dave was great to work with and probably the most professional and well organized owner we've ever dealt with. We plan on staying again, and have already told family and friends that are interested in staying as well! We loved every second of our time here! You have a very special place and we can't wait to visit again! Memories will last forever! Thank you!!!
06/30/2018
Bedroom Setup
1 Bunk Bed
1 King Bed
1 Sofa Bed
Dining Room
Dining Table
Eat in Counter
Eat in Kitchen
Formal Dining Room
Bathroom
Bathtub
Linens & Towels
Private Bathroom
Shower/Tub Combo
Bedroom Extras
Private Bathroom
Walk-in Closet
Alarm Clock
Cooling Comfort
Ceiling Fans
Central Air Conditioning
Entertainment
Big Screen TV
Cable TV
Golf
TV/DVD
Smart T.V.
Bluetooth Speaker
General
Linens Included
No Pets
No Smoking
Vacuum
Fitness Center
Condo
Elevator/Lift
Online Booking
Kitchen
Washer/Dryer
Blender
Can Opener
Coffee Maker
Dishes
Dishwasher
Disposal
Fully Equipped Kitchen
Garbage Compactor
Gourmet Kitchen
Ice Maker
Ironing Board
Microwave
Mixer
Oven
Pots and Pans
Refrigerator
Stove
Toaster
Utensils
Outside Living
Community Pool
Outside Shower
Private Parking
Indoor pool
Gulf/Ocean View
Gulf/Ocean Front
Balcony
View (Water)
View (Lake)
Waterfront
Beachfront
Hot Tub/Heated Spa
Parking
Covered
Parking for 1 car
Garage Included