7th Heaven @ Majestic Sun
Forever Vacation Rentals: 7th Heaven in Miramar Beach.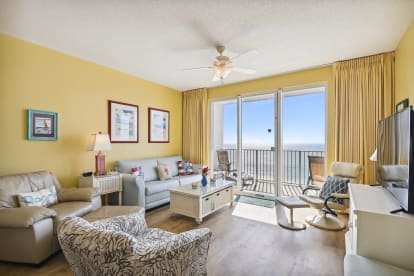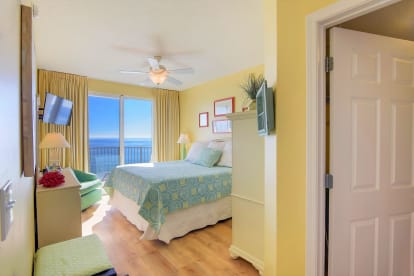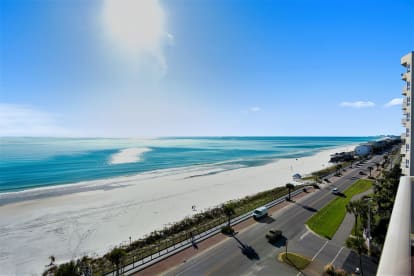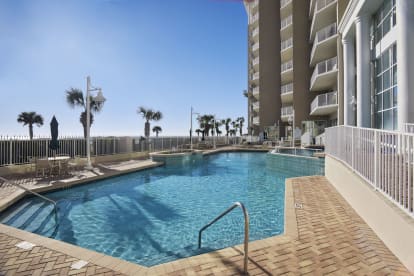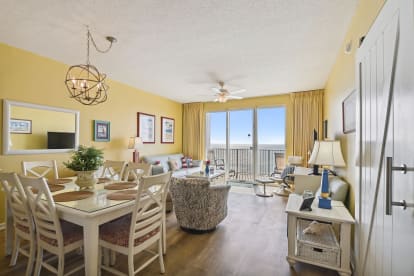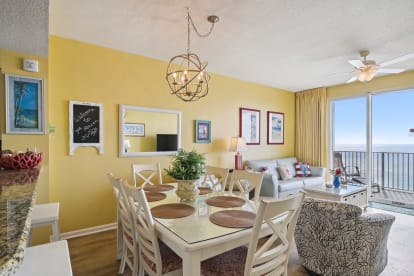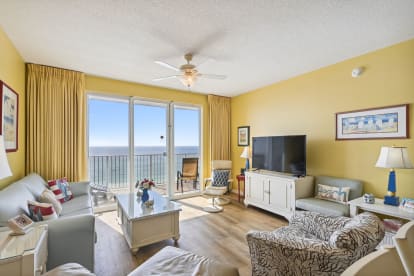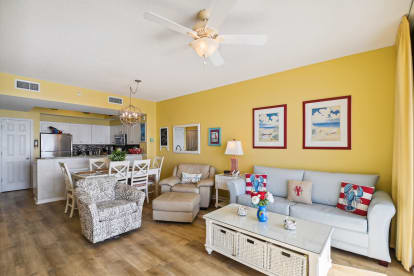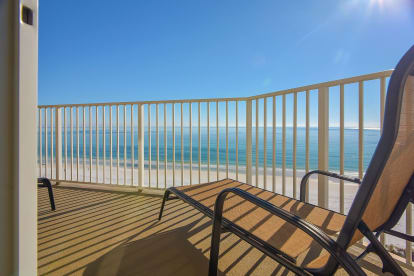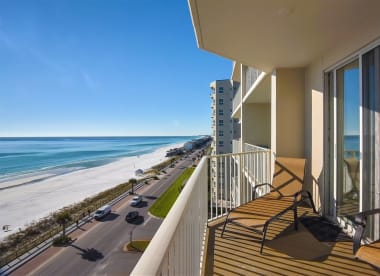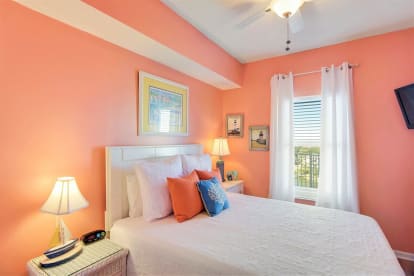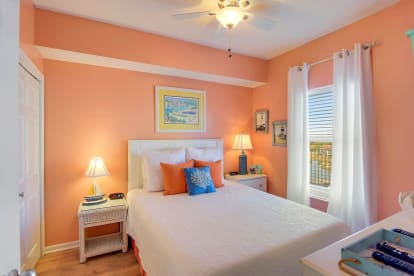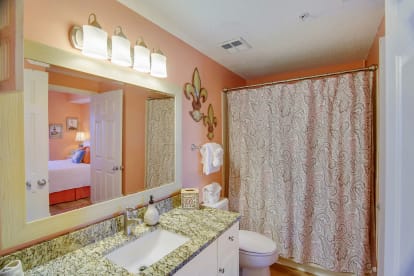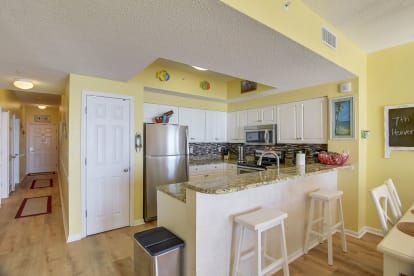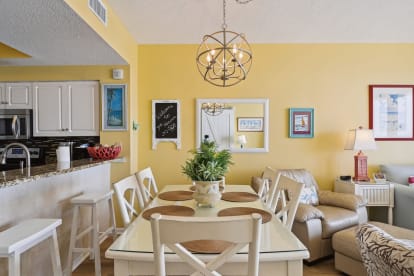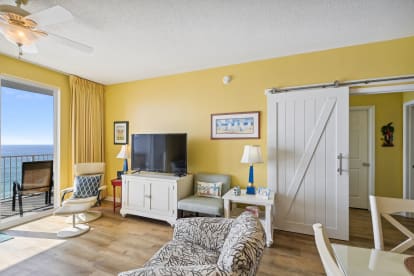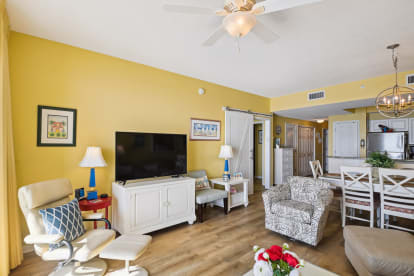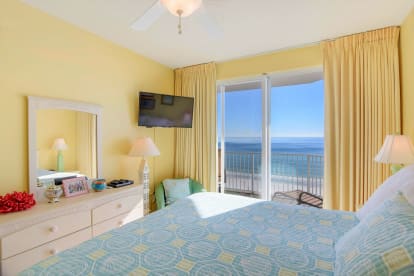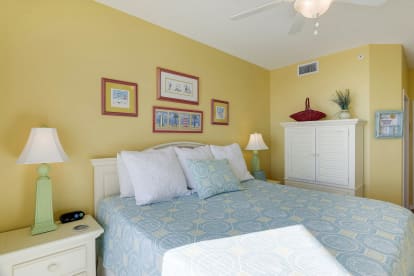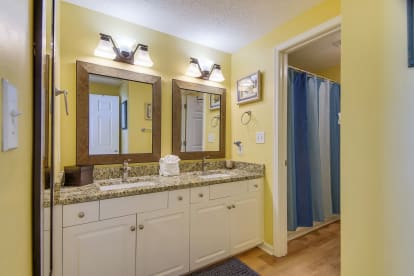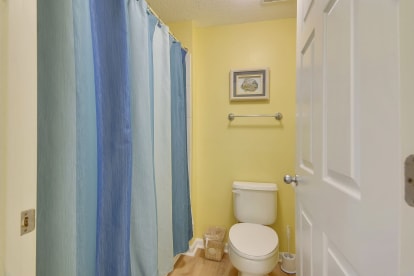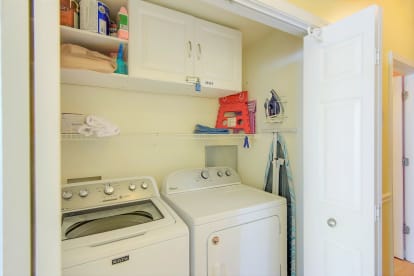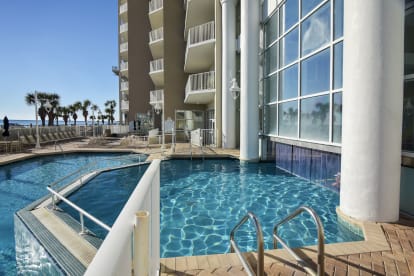 ---

My ECBYO Majestic Sun Listing
Description
Have you ever dreamed of waking up to breathtaking views of white sandy beaches and emerald ocean waters?  7th Heaven at Majestic Sun 711B will make that dream come true.  Admire stunning gulf views right from the Kitchen, Living Room, and Master Bedroom.  As you walk in you will see a colorful and bright Guest bedroom with a Queen sized bed, a Flat-screen TV, and beautiful lake views right from the window.  The connecting Guest bathroom features exquisite granite counter-tops and an updated vanity with shower/tub combo.  Step out to the hall and you will make your way to the open Kitchen that includes stunning granite counter-tops, stainless steel appliances, and everything you need to make your favorite meal.  Don't forget to admire the Gulf views from the Kitchen while you are cooking.  The Dining table includes seating for six plus two barstools at the kitchen bar.  The Master bedroom is decorated with bright coastal accents and features a comfortable King sized bed.  You also have private access to the large balcony and stunning views of the gulf right from your bed.  The Master bathroom has double vanity sinks with granite counter-tops and a separate shower area.  The living room also opens up to the balcony and includes a Queen sized sleeper sofa with a very comfortable memory foam mattress and additional chairs perfectly placed for relaxing in while drinking coffee and watching the morning waves.  There is also a Washer and Dryer in the unit for your convenience. 
7th Heaven is located in Miramar Beach right off of Scenic Hwy 98.  At Majestic Sun beach resort you can spend your days indulging in several amenities including an indoor pool (heated in winter), outdoor pool, two hot tubs, Gulf facing fitness center, and more.  With easy beach access you can simply stroll across the street to the beach and lounge on the sugar white sands or try some fresh seafood at The Whale's Tail Beach Bar & Grill, a local favorite.  Majestic Sun is part of the Seascape Beach Resort and is centrally located within minutes of a beautiful 18-hole golf course, Destin Commons, Silver Sands Outlet Mall, Grand Boulevard, Parasailing, Wave runner Rentals, Kayak rentals, and more!



7th Heaven truly is a spectacular vacation oasis that you and your family are sure to love.  You'll never forget the time you spend on the shores of Miramar Beach - begin planning your escape to Florida's Emerald Coast today!



This property is stocked with a Starter Kit to get you through your first 24 hours. 
This includes two kitchen trash can liners, two dishwashing packets, mini shampoo, conditioner, lotion, one roll of toilet paper per bathroom, and one roll of paper towels. We supply bath towels, washcloths, and hand towels. We do not supply beach towels, laundry detergent, seasonings/spices, or liquid dishwashing detergent.



Majestic Sun is a smoke free environment with smoking and chewing tobacco prohibited in all common areas including the garage, walkways, pools spa and pool decks as well as on the balconies.



Please note that due to the health and severe allergies of the host we cannot accept animals of any kind in this unit.


To top it off as our valued guest, this rental includes

"ONE FREE PASS, PER ACTIVITY, PER DAY" to the following:

 
**Forever Memories Fun Pass ** - Traveler Package
November – February Amenities:

• A Round of Golf at select courses. 

• Adventure Zone at Baytowne Wharf

• Urban Air Adventure Park



March – October Amenities:

• A Round of Golf at select courses. 

• Adventure Zone at Baytowne Wharf

• Urban Air Adventure Park

• Snorkeling (seasonal)

• Sea Blaster Dolphin Cruise



This is our way to say Thank You for staying with us at Forever Vacation Rentals!

**All activities are subject to change by season, weather and availability**

**Monthly rentals are specifically excluded from participation in the Fun Pass Program**
From/To
Nightly
Weekend
Weekly
Monthly
Min Nights
09/23/2023
10/01/2023
$170
--
--
--
3
10/02/2023
10/05/2023
$179
--
--
--
3
10/06/2023
10/20/2023
$173
--
--
--
3
10/21/2023
10/27/2023
$177
--
--
--
3
10/28/2023
10/31/2023
$187
--
--
--
3
11/01/2023
11/30/2023
$172
--
--
--
3
12/01/2023
12/09/2023
$266
--
--
--
3
12/10/2023
12/22/2023
$269
--
--
--
3
12/23/2023
01/03/2024
$329
--
--
--
3
01/04/2024
03/01/2024
$249
--
--
--
3
03/02/2024
03/15/2024
$235
--
--
--
3
03/16/2024
04/05/2024
$285
--
--
--
3
04/06/2024
04/12/2024
$345
--
--
--
3
04/13/2024
04/17/2024
$414
--
--
--
3
04/18/2024
04/21/2024
$449
--
--
--
3
04/22/2024
04/27/2024
$414
--
--
--
3
04/28/2024
05/24/2024
$345
--
--
--
3
05/25/2024
06/07/2024
$365
--
--
--
3
06/08/2024
07/19/2024
$409
--
--
--
3
07/20/2024
08/09/2024
$399
--
--
--
3
08/10/2024
08/28/2024
$379
--
--
--
3
08/29/2024
09/03/2024
$449
--
--
--
3
09/04/2024
09/13/2024
$379
--
--
--
3
Peace of Mind Protection:
$79.00
Credit Card Processing Fee:
3%
(Optional)
Credit Card Processing Fee: You can only pay with a check 30 days prior to your arrival. 
Resort Fee: Resort Fee is per day. 
Home Away from Home

My wife and I came to 7th Heaven for our honeymoon. We shopped several different condos but none of them had the views or accommodations that this condo seemed to have in the listing. For those who read reviews I can tell you that this place is exactly as advertised or better. The view is awesome. The balcony is nice and roomy and the kitchen is as clean and well stocked as home. I really did feel like it was my home away from home. We've had a very busy summer at work and preparing for the wedding and this was a great place to unwind and take in the beach view. It's easy to get to the beach and everything we needed such as chairs and umbrellas were in the condo waiting on us. 7th Heaven is on the top of the list for our first anniversary weekend. Thanks for the great experience and keep up the good work!
10/30/2019
Beautiful View

Beautiful condo with the best view! Couldn't have asked for a more amazing experience! Jilenna was very responsive and went above and beyond to help us. The condo was decorated beautifully, and we wanted for nothing after we arrived! Lots of great restaurants and fun little shops very close. We really appreciated the complimentary tickets to fun adventures in the area.
10/08/2019
Wonderful Vacation

We had a wonderful time at the 7th heaven. The apartment has a gorgeous beach style decor with a very well equipped kitchen. The view from the balcony is spectacular - emerald green waters with white sandy beach. The check in and out was super easy with a door code. We really enjoyed our time at Miramar Beach and hoping to be back next year.
09/16/2019
Excellent Stay
It is an excellent place to spend in family and I definitely recommend it, I hope to return next summer
08/21/2019
Great place and great location!

Great place and great location!
08/19/2019
5 Stars

The condo was exactly how described... clean, directly across the street from the beach and had ALL the amenities needed for a day of fun (beach chairs, umbrellas) in the sand or food and game night inside. The balcony was spacious with chairs and tables with two doors leading to the bathroom and living room. The kitchen has everything needed for a full meal... and they have Keurig!! The location is near several restaurants and 3-5 mins from the outlets. We truly enjoyed our stay and will definitely book with them again.
08/13/2019
Perfect Location

Perfect location, very comfy home, it had everything including toys for the beach.
07/19/2019
Loved everything!

We absolutely loved the condo and everything about it. Very clean, beds were comfortable, lots of room, great location. Looking forward to visiting again sometime.
07/09/2019
Spectacular View

The place was comfortable and close to the beach. The view from the condo was spectacular.
06/17/2019
5 Stars

This property was exactly as advertised: clean, comfortable, well stocked, large balcony with uninhibited views of ocean from almost every room in condo! Crossing street to beach was a non-issue, as walkover is just out front door and not a ton of stairs, either! Was less expensive than most we considered, but got more in return! We come to general area of Hwy 98 every year, from PCB to Destin and try different complexes, but would definitely recommend and rent this one again!
06/04/2019
Great Place for our trip

We are a family of 3 (our daughter is 3 and a half years old) and we stayed at 7th Heaven. 7th Heaven is such an amazing *condo - the location and the view is unbeatable. Everything looks better than the pictures. The check in and check out process was super easy. All amenities listed are accurate. Both bedrooms and bathrooms are spacious and have televisions. I cant say enough about how beautiful this *condo was. My advice to anyone looking at this property is: IF ITS AVAILABLE - BOOK IT!!
05/19/2019
5 Stars

It was very clean and up to date. Me and my family could not have been happier we actually met one of the owners we just so happen to run into her as she was walking past us staying with a friend on the same floor. She was as sweet as can be. We invited her in and talked for a bit she told us of some places we should visit and some places that where we should try the food at. She was very down to earth. I would recommend this place to anyone because it was not just the condo that was beautiful but just the view of waking up in the morning and smelling and seeing the ocean water it was a wonderful stay
05/02/2019
Would Stay Again

The unit was very clean, well furnished. Had no problems checking in, wonderful experience. Would definitely stay here again!
03/22/2019
One Amazing Stay

We had an absolutely great time in Miramar Beach with family and friends!! The process was super easy from beginning to finish all thanks to our host and not one single problem!! Our view from the condo was just as awesome as all the little things like beach toys the leave for kids or chairs for us adults!! The condo had everything down to the bookshelves with a ton of books! The restaurants were amazing, which we aren't seafood eaters but we sure did eat it and wow it was awesome! The Gulfarium was an awesome experience for children and adults! Our favorite place that we ate at was Fudpuckers, wow that place is awesome!!! To sum it up my wife, son, neighbor her niece and I had one amazing time and will remember this for a life time!!
03/18/2019
A Must Stay

A must stay if you are looking for a beach view.
03/11/2019
A Perfect Stay
As Snowbirds from Ohio, we were not sure what to expect as we settled in to our condo at Majestic Sun in Destin, Florida. We had been to other places and looked forward to a change in weather and scenery. The overall benefits offered by Majestic Sun include a perfect location on Scenic Gulf Drive directly across from the ocean. In addition, the indoor heated swimming pool, hot tubs and exercise facility are welcome extras! Our initial impression of 7th Heaven was a pleasant surprise as we explored our two bedroom, two bath condo with a perfect view of the ocean. Looking further, the extras provided by our landlord, Cristi Nelson, are wonderful! We truly have all the comforts of home and then some. From the kitchen to living room and bedrooms, the furnishings are top notch and anything we need is already here! As a landlord, Cristi is approachable and responsive. She has designed the condo to be a place where she and her family are comfortable so it's not just a business to her. We have seen other condos at Majestic Sun and heard stories of difficulties others have faced and realize we are very fortunate to have Cristi as a landlord and to be staying here in 7th Heaven. In the future, we look forward to staying in our "winter home away from home" and continuing the positive relationship we have with Cristi Nelson. We are truly blessed! Sincerely, William & Donna Claus
01/01/2019
Highly Recommended

Great place to stay, the view is wonderful. Highly recommended.
03/08/2020
Our stay was magnificent in every way!
Hello Jilenna, Thanks again for allowing us to spend these days on your property. Everything seemed very good to us, but above all the location is spectacular. The only thing I could recommend is to have a quieter AC unit that can cool the apartment in a more adequate way. In general lines our stay was magnificent in every way.
06/06/2020
Everything was PERFECT!

Everything was PERFECT! The view was AMAZING! Condo was spacious, clean, and so convenient!
07/02/2020
Amazing Views

Very cute condo with an amazing view. All the kitchen utensils and beach equipment you could possibly need.
10/06/2020
Highly Recommend

Location and place was amazing- Views were BEAUTIFUL.. Highly Recommend.
08/11/2021
Excellent

We enjoyed our stay here! Condo was just like the pictures. It had everything you need. Definitely recommend this place. We look forward to staying here again.
02/11/2022
7th Heaven!

This was such a great property to stay at. The whole "home away from home" is spot on. Overall the feel and vibe was perfect. Everything was clean. The views are simply breathtaking. The communication from the owners were great too. We will definitely be back.
04/13/2022
What a great vacation

The apartment is lovely and has everything you will need. It's hard to leave the beautiful view! You won't be disappointed!
05/10/2022
Good as Advertised

What great spot! Our family of 5 had the best time here.....from the views, location, and cleanliness of this condo, it was the perfect place for a relaxing getaway. The kids loved the white sandy beach across the street and my wife and I started and finished our evenings on the balcony. The views from up top were amazing, which included morning visits from the dolphins. I would recommend this location to anyone and hope to be back next year! Thank you for letting us enjoy a piece of 7th Heaven!
05/16/2022
Beautiful property

Property was beautiful and close to the beach.
05/31/2022
We love this place!

Very nice place with breathtaking view of the ocean and the beach from the balcony, kitchen, living room and master bedroom! A morning coffee with such a view is a lifetime memory. Perfect location and quick access to the beach. We loved the place and definitely will recommend.
06/06/2022
Wonderful getaway

We were looking for a unit that was close to the beach , walk to a few restaurants, and perfect for two. The condo is perfect for this or a group of 4 who want great amenities. We will certainly bring our family of 4 back! We also loved that they had a well stocked kitchen, and closet with beach needs (chairs, umbrellas, games). The TV was loaded with content as well!
06/08/2022
7th Heaven was perfect for our Family of 5

If you enjoy cooking on vacation, 7th Heaven had the most equipped kitchen we have ever had in rentals! The Condo was super clean, decor was bright and beachy. Furnishings were comfortable, electronics were modern (tvs and remotes), great ac, view was terrific beach side and of the large pond inland side. We would book here again.
07/15/2022
Rebooking 2023!

Loved our stay at majestic sun! Although it rained alot during our stay the view from the balcony was amazing. Loved how the tvs had cable, and netflix. Beach was literally a 2 minute walk from the condo. Parking is convenient, pools are large and love how it's family friendly. Definitely rebooking next year!!
07/18/2022
All good

I'll come back!!!
08/15/2022
Amazing vacation and can't wait to return

Such a wonderful location that was a great for our family of 4. Had everything we needed to enjoy our vacation, from the kitchen to the umbrella and beach chairs, as well as the amenities available like the pool and gym. It was very short walk to the beach from our rooms, super quick to run back up whenever we forgot something, or needed more snacks. The location is EXCACTLY as described, and what you see in the pictures. My mother loved that we could see the water from the kitchen when we made breakfast in the mornings. The balcony definitely was a great plus for us wanting to enjoy the beach from our room while eating breakfast/dinner. We have been raving about this location to everyone and highly recommend. Excited for when we can stay again!
09/20/2022
Fall Break!!

We loved our stay at 7th Heaven. The location was perfect and the condo had everything you would need. We will definitely book here again.
10/24/2022
Perfect stay!

This was a great stay. Everything within walking distance or just a short drive. The condo was beautiful with great views. Only thing that needed upgrading was the cookware (pots). Will be recommending your condo to others
10/31/2022
We'd definitely stay here again!

We had a wonderful stay here over the last week. The vicinity to the beach was perfect and the views were amazing. The building was quiet and easy to navigate. There was plenty of parking although we occasionally had to walk a ways from the parking garage but there were always spots available. We stayed with 4 adults and two 5 year olds and we were more than comfortable and had plenty of space. The master bedroom/bathroom was huge, love that there was a washer and dryer, and we enjoyed sitting on the balcony to relax. We'd definitely stay here again! Thank you!
06/03/2023
Clean condo with a beautiful view!

Beautiful view of the beach. Well organized kitchen. Comfortable beds and living room. Clean bathrooms.
06/18/2023
Friendly & Clean!

Will go back to this location. Beautiful.
08/09/2023
Lifelong Memories!

I had the best stay with my mom and sister - it was our first girls trip, and we made lifelong memories. It was so comfortable, and we really felt cozy at home. The view and the water - unbelievably beautiful. I'll be dreaming to go back & God willing we will be back ! Thank you so so much for opening up your beautiful home to become ours 💕
08/10/2023
Entertainment
Television
Laptop Friendly
Satellite or Cable
Suitability
No Pets
No Smoking
Children Welcome
Free Parking
Minimum Age Limit
Pets Not Allowed
Smoking Not Allowed
Ceiling fans
Staffed property
Suitable for elderly
Air Conditioning
Washer and Dryer in unit
Community Hot Tub
Community Pool
Amenities
Air Conditioning
Dryer
Elevator
Heating
Parking
Washer
Cable/satellite TV
Fire Extinguisher
Garage
Internet
Internet Access
Keypad
Linens
Linens provided
Self Check-In
Towels
Towels provided
TV
Essentials
Hangers
Linen provided
Free Wifi
Pool/Spa
Communal Pool
Hot Tub
Heated Pool
Kitchen and Dining
Kitchen
Coffee Maker
Dishes Utensils
Dishwasher
Microwave
Oven
Refrigerator
Stove
Fridge
Themes
Family
Romantic
Tourist Attractions
Adventure
Attractions
Churches
Cinemas
Health Beauty Spa
Restaurants
Water Parks
Location Types
Beach
Beach or lakeside relaxation
Beach View
Beachfront
Near Ocean
Ocean Front
Ocean View
Ocean views
Resort
Water View
Water views
Lake
Lake Front
Lake View
Waterfront
Leisure
Beachcombing
Boating
Bowling
Outlet Shopping
Photography
Scenic Drives
Shopping
Walking
Water Sports
Sports and Adventure
Deepsea Fishing
Fishing
Golf course on site or within 15 min walk
Golf Optional
Jet Skiing
Parasailing
Sailing
Scuba or Snorkeling
Snorkeling
Surfing
Swimming
Watersports nearby
Changeover/Arrival Day
Arrival Day Flexible
Check in 4pm/Check out 10am
Arrival Day Negotiable
Check in 4pm CST / Check out 10am CST
Accommodations
Dryer
Elevator in the building
Wifi
Tumble dryer