Penthouse in Paradise @ Majestic Sun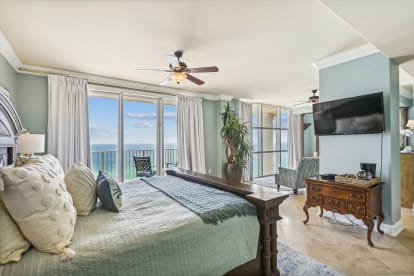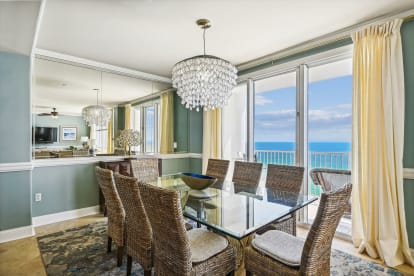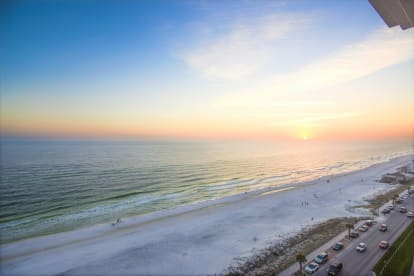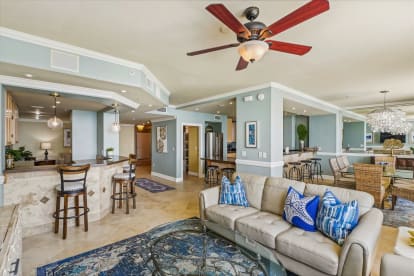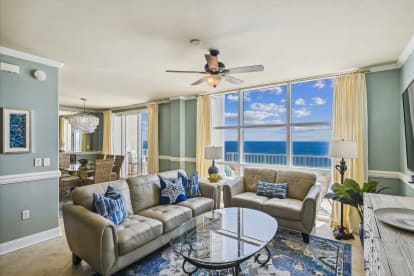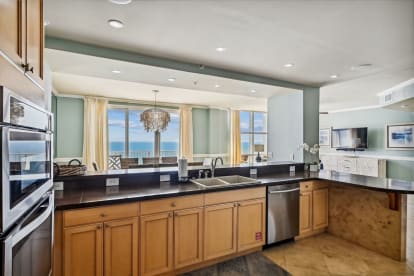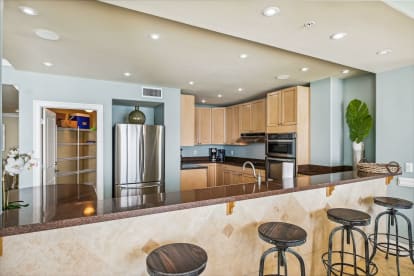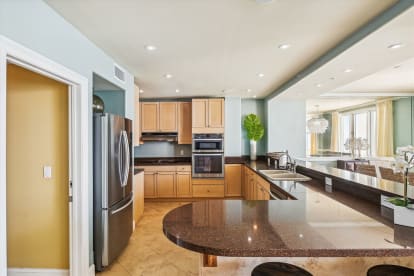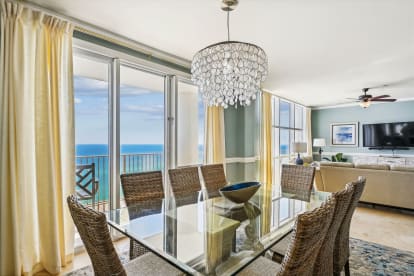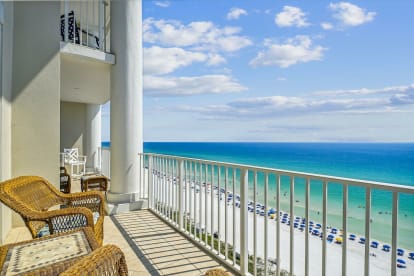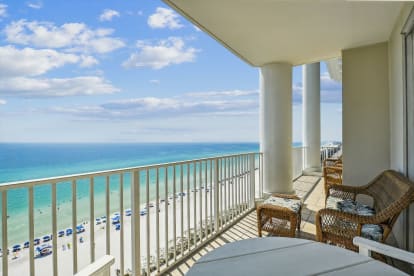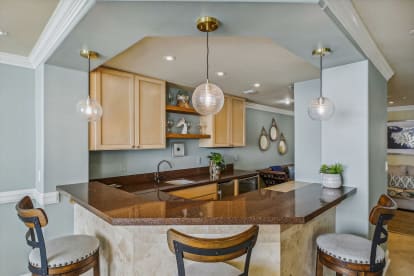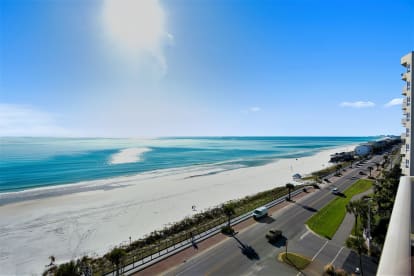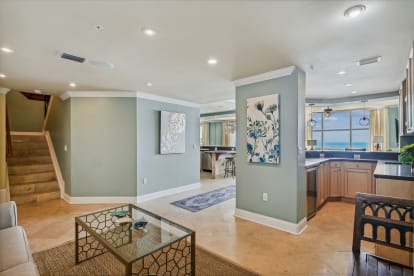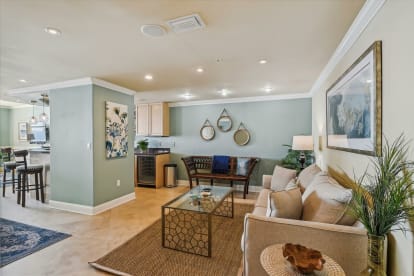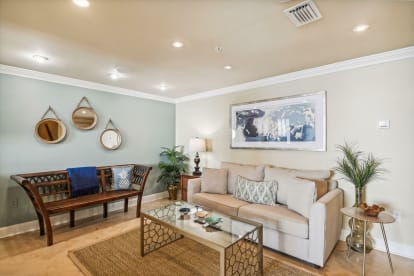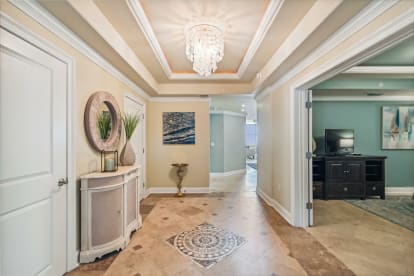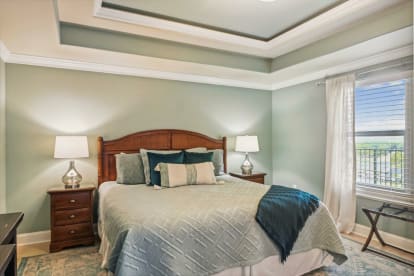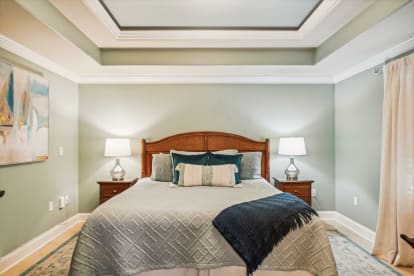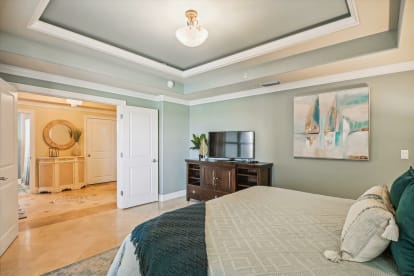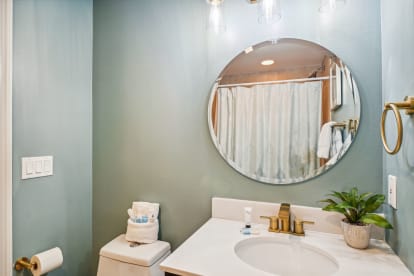 ---

My ECBYO Majestic Sun Listing
Description
Welcome to Penthouse in Paradise-where the name says it all!! This stunning 3,200 square feet, 2-story Penthouse features dual large balconies and floor-to-ceiling windows for unbeatable front row seat views of the Emerald Green waters and sugar-white sand beaches of the Gulf of Mexico.  

Penthouse in Paradise is a timeless masterpiece that showcases gorgeous Travertine tile, intricate crown molding, and recessed ceilings. Designed with soft, coastal colors and spectacularly decorated, stunning lighting is presented throughout this condo and perfectly complements all of the features this gorgeous Penthouse has to offer. Enjoy new technology with ease, including flat-screen TVs and a centrally-sourced, multi-zone audio system providing audio to the Master bedroom and bathroom, and living areas. Offering 3,200 square feet of vacation living space, this home is perfect for families and friends traveling together to the beautiful Emerald Coast!



An inviting entrance welcomes you into the main level of our Penthouse and creates a warm and regal feeling right away. There are two separate living areas that offer you plenty of space and one of two large balconies perfect for relaxing in the sun. As you enter the large foyer there is a full bathroom to the left that is shared by all guests. To the right is the first-floor guest bedroom featuring a king bed. There is also a full-size sleeper sofa located in the second den/living area. Enjoy the expansive kitchen with state-of-the-art appliances and a large walk-in pantry that has everything you need to prepare delicious meals with your family. Then relax at the well-equipped wet bar where you can create your favorite cocktail and unwind with direct views of the Gulf. The bar features a beer fridge, a wine fridge, and a large under-counter ice maker and is also a great coffee bar and workstation during your stay. The TV is great with the ability to swivel from the living room and bar area on Game Day!  



Make your way upstairs to the spacious Master Suite that has its own private balcony, which offers an unbeatable view of the sugary white sand and emerald waters of the Gulf of Mexico. Relax in the separate Master jacuzzi tub while enjoying the spectacular views of the Gulf and the setting sun. Complete with double vanity and large walk-in Rainforest shower, a large walk-in closet, King size bed, and flat-screen TV, the Master Suite gives you the luxurious space you deserve.



The second level is also home to two additional Guest bedrooms - each beautifully and comfortably arranged, a spacious laundry room, a shared full Guest bathroom with his and her sinks, and an additional large walk-in Rainforest shower. The first Guest bedroom presents two Queen beds and a flat-screen TV. The second Guest bedroom features 2 sets of bunk beds with full on bottom and twin on top allowing 6 guests to sleep here and a flat-screen TV as well. 



Penthouse in Paradise is spacious, luxurious, and truly offers the peaceful serenity that will keep you returning to the Emerald Coast for many years to come! Step outside to the beach or take a walk along the boardwalk across the street. Ranked #4 Best Beach in the USA by US News, the beach and Gulf views from this 2-story Penthouse condo is second to none.  



Majestic Sun Community:

Majestic Sun Resort is located in Miramar Beach between the heart of Destin and Sandestin. Majestic Sun offers guests a 3,200 square foot super-heated indoor/outdoor pool with waterfalls, 2 whirlpool Jacuzzi's, and a fitness center; as well as 2,000 square feet of beachfront access ,an 18-hole golf course, 8 tennis courts, nature trail, freshwater lakes, beachside bar and grill, and so much more (Golfing and Beach service are at an additional fee). Beach access is located right in front of Majestic Sun. With easy beach access, you can simply stroll across the street to the beach and lounge on the sugar-white sands or try some fresh seafood at The Whale's Tail Beach Bar & Grill, a local favorite. Majestic Sun is part of the Seascape Beach Resort and the nearby amenities are plentiful with numerous restaurants close by (including three you can walk to in minutes), multiple grocery stores, churches including the "Rock and Roll" church, ten golf courses within a 10-mile radius, Destin Commons, Silver Sands Outlet Mall, Grand Boulevard, Parasailing, Wave Runner Rentals, Kayak rentals, and more!



*Majestic Sun is a smoke-free environment with smoking and chewing tobacco prohibited in all common areas, including the garage, walkways, pools, spa, and pool decks, as well as on the balconies.



PARKING: Two Free Parking Passes are included with this rental. You may purchase, for a fee of $15.00 each, up to 2 additional parking passes in advance through your rental agency. This cannot be processed on the day of arrival or after check-in.



This property is stocked with a Starter Kit to get you through your first 24 hours. This includes two kitchen trash can liners, two dishwashing packets, mini shampoo, conditioner, lotion, one roll of toilet paper per bathroom, and one roll of paper towels. We supply bath towels, washcloths, and hand towels. We do not supply beach towels, laundry detergent, seasonings/spices, or liquid dishwashing detergent. Guests will need to replenish supplies as needed.



 *Please note that due to the health and severe allergies of the host we cannot accept animals of any kind in this unit.

 
To top it off, as our valued guest, this rental includes

"ONE FREE PASS, PER ACTIVITY, PER DAY" to the following:

 


**Forever Memories Fun Pass** - Explorer Package

November – February Amenities:

• A Round of Golf at select courses

• Fishing Adventures

• Adventure Zone at Baytowne Wharf

• Urban Air Adventure Park



March – October Amenities:

• A Round of Golf at select courses

• Fishing Adventures

• Adventure Zone at Baytowne Wharf

• Urban Air Adventure Park

• Snorkeling (seasonal)

• Sea Blaster Dolphin Cruise

• Big Kahuna Water Park (seasonal)



This is our way to say Thank You for staying with us at Forever Vacation Rentals!

**All activities are subject to change by season, weather and availability**

**Monthly rentals are specifically excluded from participation in the Fun Pass Program**
From/To
Nightly
Weekend
Weekly
Monthly
Min Nights
09/23/2023
10/01/2023
$329
--
--
--
3
10/02/2023
10/05/2023
$347
--
--
--
3
10/06/2023
10/14/2023
$336
--
--
--
3
10/15/2023
10/26/2023
$389
--
--
--
3
10/27/2023
10/27/2023
$343
--
--
--
3
10/28/2023
10/29/2023
$554
--
--
--
3
10/30/2023
11/01/2023
$498
--
--
--
3
11/02/2023
11/04/2023
$554
--
--
--
3
11/05/2023
11/05/2023
$535
--
--
--
3
11/06/2023
11/09/2023
$489
--
--
--
3
11/10/2023
11/12/2023
$535
--
--
--
3
11/13/2023
11/16/2023
$489
--
--
--
3
11/17/2023
11/19/2023
$535
--
--
--
3
11/20/2023
11/23/2023
$489
--
--
--
3
11/24/2023
11/26/2023
$535
--
--
--
3
11/27/2023
11/30/2023
$489
--
--
--
3
12/01/2023
12/03/2023
$535
--
--
--
3
12/04/2023
12/07/2023
$489
--
--
--
3
12/08/2023
12/10/2023
$535
--
--
--
3
12/11/2023
12/14/2023
$489
--
--
--
3
12/15/2023
12/17/2023
$535
--
--
--
3
12/18/2023
12/21/2023
$489
--
--
--
3
12/22/2023
12/24/2023
$535
--
--
--
3
12/25/2023
12/28/2023
$489
--
--
--
3
12/29/2023
12/31/2023
$535
--
--
--
3
01/01/2024
01/04/2024
$489
--
--
--
3
01/05/2024
01/07/2024
$535
--
--
--
3
01/08/2024
01/11/2024
$489
--
--
--
3
01/12/2024
01/14/2024
$535
--
--
--
3
01/15/2024
01/18/2024
$489
--
--
--
3
01/19/2024
01/21/2024
$535
--
--
--
3
01/22/2024
01/25/2024
$489
--
--
--
3
01/26/2024
01/28/2024
$535
--
--
--
3
01/29/2024
02/01/2024
$489
--
--
--
3
02/02/2024
02/04/2024
$535
--
--
--
3
02/05/2024
02/08/2024
$489
--
--
--
3
02/09/2024
02/11/2024
$535
--
--
--
3
02/12/2024
02/15/2024
$489
--
--
--
3
02/16/2024
02/18/2024
$535
--
--
--
3
02/19/2024
02/22/2024
$489
--
--
--
3
02/23/2024
02/25/2024
$535
--
--
--
3
02/26/2024
02/29/2024
$489
--
--
--
3
03/01/2024
03/01/2024
$535
--
--
--
3
03/02/2024
04/05/2024
$649
--
--
--
3
04/06/2024
04/12/2024
$689
--
--
--
3
04/13/2024
04/17/2024
$755
--
--
--
3
04/18/2024
04/21/2024
$769
--
--
--
3
04/22/2024
04/27/2024
$755
--
--
--
3
04/28/2024
05/16/2024
$689
--
--
--
3
05/17/2024
05/19/2024
$709
--
--
--
3
05/20/2024
05/23/2024
$689
--
--
--
3
05/24/2024
05/31/2024
$899
--
--
--
3
06/01/2024
06/07/2024
$849
--
--
--
7
06/08/2024
06/14/2024
$1,009
--
--
--
7
06/15/2024
06/21/2024
$989
--
--
--
7
06/22/2024
06/28/2024
$1,209
--
--
--
7
06/29/2024
07/19/2024
$989
--
--
--
7
07/20/2024
07/26/2024
$889
--
--
--
7
07/27/2024
08/03/2024
$1,209
--
--
--
7
08/04/2024
08/09/2024
$889
--
--
--
7
08/10/2024
08/28/2024
$619
--
--
--
3
08/29/2024
09/03/2024
$699
--
--
--
3
09/04/2024
09/13/2024
$619
--
--
--
3
09/14/2024
10/25/2024
$589
--
--
--
3
Views were amazing!


We really enjoyed our stay. The master suite and views were amazing! We highly recommend staying here!
02/21/2019
Will gladly be back again!

The place is spacious, clean and comes with the best view. My family would definitely stay again.
08/06/2019
Amazing Stay

Great location, the interior space was enough for a big family like ours. Everything was clean and organized. The views are amazing. Walking distance to beach is so convenient. We loved the big counter space to cook and eat all together as a family. Overall, we will definitely be booking again in the future.
04/03/2020
Facility was clean and as advertised

Location was a good part of us staying there and worth the price. We really enjoyed our stay. The condo met and exceeded our expectations. Very clean and in a good location. We felt very safe and the condo was very well stocked. Will be back.
04/07/2020
Excellent Week@


Had a great time in the penthouse! Had enough space for everyone. The view was fabulous! Only issue we had were slow elevators.
07/08/2020
Great unit for a large family!

We came as a large family, and there was plenty of room. The condo was clean, spacious and well equipped.
08/05/2020
Amazing Views

This place is great for families that want to be on the beach. It may be across the street from the beach, but the walk is shorter than other beach front properties we have stayed at in the past. There is plenty of room inside for the kids to have there own space and the adults have theirs. The kitchen is very large and has everything you need to prepare meals. Of course the view is amazing from both balconies! Highly recommend this condo!!
11/12/2020
Beautiful place to stay!

Beautiful place to stay and plenty of room for a big family! All necessary cooking equipment was supplied in the kitchen and even extra beach equipment was provided! Views were incredible and amenities were easy to navigate! We had a wonderful time!
01/18/2021
Amazing

This penthouse was AMAZING! The pictures don't do it any justice. It was very clean and spacious. It was also decorated really nice and there are mirrors everywhere. It definitely provided lots of natural light. The views were unbelievable from both balconies
08/03/2021
Perfect Stay

This was the perfect place to retreat and relax. Highly recommend!
08/03/2021
Loved!

I just wanted to let you know that I was very pleased with the Penthouse. The pictures don't make any justice on how beautiful the place is plus the gorgeous views! We were really in paradise. The first time I opened the balcony door I was greeted by a pelican flying by and it seem like I was watching it through a tv. My family and I were very comfortable on every aspect. I have visited Destin a few times before but this experience definitely tops every single one.
08/13/2021
Can't Wait to return!

Absolutely love the place. The view is spectacular!!! You are steps away from the beach. The water was so clear and the beach was very well kept. A couple of restaurants within walking distance. Spacious for multiple families with children. The accommodations were on point. The kitchen had everything you needed to cook, a great coffee maker, had 4 beach chairs, other beach toys, and floats. We will return!
09/10/2021
Great Location & Spectacular Views!


Comfortable beds. Large kitchen. Plenty of space for everyone in our large group. Great location with easy access to the beach & spectacular views!
01/24/2022
Great for larger groups!

Great stay for my sister's bachelorette trip! Plenty of room and central location. Definitely recommend staying for large groups!
04/25/2022
Surpassed all expectations!!

This property is really amazing. It's situated in front of the Gulf and the views were so beautiful. The home was decorated perfect, and clean and we had enough supplies there to get us through the next 2 days. Sound system was so much fun to use. The balcony in the early mornings were peaceful and serene. The kids enjoyed hopping into the pool and then heading to the beach. This place surpassed our expectations. No issues no worries everything amazing.
05/02/2022
Loved it here!!
If you're with a large group this house is perfect for you. The view is amazing. You definitely will love your stay here!
I We had a few hiccups and they were fixed right away. The house was very clean!
07/18/2022
2022 Vacation!

Location perfect, penthouse perfect, beach perfect. Something that can't be changed is the size of pools. They were nice, but so many people left little room to enjoy any real swimming and playing around.
08/01/2022
Amazing

This property was just as described in the listing. Beautiful, clean, great location, and lots of space. Communication with property managers was friendly and fast when needed. Would definitely stay here again.
08/31/2022
Best condo ever

This place is beautiful !! So much room we had a big group and all were very comfy . Everything you need is provided, I would love to stay there again !
09/13/2022
Great property and Great Group to work with!

We were looking for a unique place to celebrate my wife's birthday with her parents and this space checked all the boxes. Forever Rentals was easy to work with and the unit was as nice as advertised….maybe even nicer. Highly recommend this property and this group to work with.
09/13/2022
Great Getaway!

We had such a great time staying in this very spacious and picturesque property. The size of the kitchen and living room were perfect for accommodating two large families (12 of us total) and there were plenty of beds and baths for everyone. The proximity to the beach was also a big bonus. We are grateful to have found this property and hope to use it again in the future.
09/27/2022
Absolute Paradise

My husband and I rented this penthouse for 8 nights and invited our three adult children to (19, 22 & 24) join us; each brought a friend. This penthouse was absolutely perfect in every way. It was plenty large enough; everyone had their own space and the view was absolutely breathtaking. The table was perfect for dinners and board games. Not one complaint and hope to go back.
10/21/2022
Amazing and stunning!

Amazing and stunning!
We have stayed at Majestic sun 4 times, this was our first time booking the penthouse but it was perfect for our large family!
03/21/2023
Weekend Getaway

Weekend getaway!
We had a great time for a long weekend!
03/23/2023
Perfect Beach Vacation

Spring Break 2023
Everything you could ask for for a perfect beach vacation!
04/06/2023
Responsive Management!
Responsive management!
Beautiful location and comfortable condo. When things went wrong, the management company responded quickly.
05/15/2023
Fabulous Views and Comfortable Stay

This property was perfect for 6 teens and 4 adults. We had plenty of space to spread out which worked well during a not so great weather week. The view was fabulous and the amenities inside the condo worked well for our large group. It was a short drive from some fabulous restaurants -- try Fat Clemenza's -- the grocery, gas and Baytowne Wharf. As far as the actual property, the pool is small for this sized property. The elevators are quick, parking is hit/miss based on when you come in and the only negative is the water to spray the sand off is inside the pool area. When the pool closes because of a storm or closes for the night at 10p and you're walking the beach after 10 or running in quick from a pop up storm, there's no spot to rinse your feet before getting into the condo. It would be nice if there was something outside the pool gate to do that but not a negative on the condo itself, only the property. Enjoyed our time, the beaches and made lots of memories!
07/08/2023
Exceeded Expectations!!

I can't say enough about this view! I knew it would be amazing but it exceeded all expectations! The unit was lovely. Very spacious, clean and inviting. We had no issues whatsoever and the host went out of her way to make herself available should any issues arise. We will definitely be back!
08/17/2023
Will be back & Attentive Host!

We had a great time. The space was perfect for our group! Very clean and the host was very attentive! We will be back!
09/07/2023
Clean and Everything Needed.

We enjoyed our stay and would book again. The condo was clean and everything we needed for our large group. We loved the beach view. Close to restaurants and entertainment.
08/31/2023
Entertainment
Television
Laptop Friendly
Satellite or Cable
Stereo
Kitchen and Dining
Kitchen
Coffee Maker
Dishes Utensils
Dishwasher
Microwave
Oven
Refrigerator
Toaster
Leisure
Scenic Drives
Sight Seeing
Walking
Changeover/Arrival Day
Check in 4pm CST / Check out 10am CST