Majestic Sun 912B 2 bed/2 bath Gulf front views wifi
Majestic Sun 912B Great View of the Gulf Cute Condo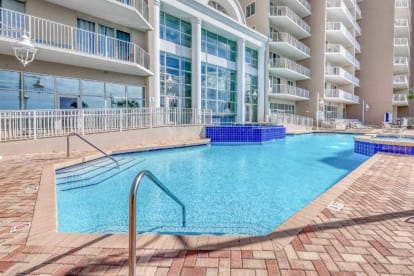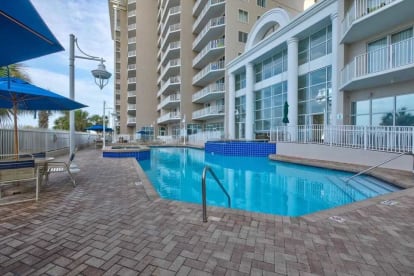 ---

My ECBYO Majestic Sun Listing
Description
Majestic Sun 912B 2 bed/2 bath Gulf front views wifi

2 Bed | 2 Bath | Accommodates 6 (when sleeper sofa is utilized) | NOT Pet Friendly

All of our properties require a Saturday-Saturday stay during Spring, Summer, and Fall unless it's a last minute booking.

Master Bedroom 1: King bed
Master Bath 1: Full bath with shower/tub combo

Guest Bedroom 2: Two Full beds
Guest Bath 2: Full bath with shower/tub combo

Living Room: Queen sleeper sofa
-Gulf-Front 9th floor balcony with lovely view of the Gulf
-Living Room is inviting & spacious
-Fully stocked Kitchen
-Large capacity Washer/Dryer
-Flat Screen TVs
-Wireless High Speed Internet
-Cable TV including HBO

Majestic Sun Amenities
-Large Outdoor/Indoor pool - heated during cold weather
-Jacuzzi-2 at outdoor Pool
-Majestic Sun Community Fitness Center on site
-Large beach
-Majestic Sun community grills
-Seascape 18 hole golf course
-Adequate parking
-Gated community
-Several restaurants within walking distance such as Whales Tail, Cabana Cafe and more.
-Activity Rentals - Bike rentals, parasailing, jet ski's, etc.
-Only one mile from the Silver Sands Designer Outlet Mall and Destin Commons, a new shopping, restaurant, and entertainment area.
-Just a few miles from the Destin Harbor, boating, fishing, great restaurants and entertainment.

About Majestic Sun

Enjoy all of the luxury amenities this beautiful, 12-story beach resort has to offer. Situated on 2000 feet of sugar white sand beaches, the Majestic Sun at Seascape is one of Destin's premier resorts.

Here, your leisure and recreational choices are almost endless with an on-site, 18 hole golf course, eight tennis courts, on-site fitness center, and a 3200 square foot heated indoor/outdoor pool with bubbling hot tubs.

There is truly something to satisfy everyone - championship sport fishing, designer outlet and boutique shopping, and outstanding gourmet or casual dining. With so many options you may just want to soak in the sun or take a sunset stroll enjoying one of the most beautiful beaches in the world.

Keywords: Condominium, Destin Florida Beach Rental by Owner, Gulf Front, Majestic Sun Condos
From/To
Nightly
Weekend
Weekly
Monthly
Min Nights
12/09/2023
12/13/2023
$178
--
$1,065
--
3
12/14/2023
12/14/2023
$184
--
$1,100
--
3
12/15/2023
12/18/2023
$268
--
$1,604
--
3
12/19/2023
12/31/2023
$288
--
$1,725
--
3
01/01/2024
03/01/2024
--
--
--
--
56
03/02/2024
03/08/2024
--
--
$1,397
--
7
03/09/2024
03/22/2024
--
--
$1,857
--
7
03/23/2024
04/05/2024
--
--
$2,057
--
7
04/06/2024
05/03/2024
--
--
$1,597
--
7
05/04/2024
05/17/2024
--
--
$1,897
--
7
05/18/2024
05/24/2024
--
--
$2,197
--
7
05/25/2024
06/07/2024
--
--
$2,597
--
7
06/08/2024
06/21/2024
--
--
$2,997
--
7
06/22/2024
07/05/2024
--
--
$3,297
--
7
07/06/2024
07/26/2024
--
--
$2,997
--
7
07/27/2024
08/02/2024
--
--
$2,797
--
7
08/03/2024
08/09/2024
--
--
$2,197
--
7
$500 Advance and the Balance Paid 30 Days Prior to Arrival for Weekly Reservations
Guests must be over 25 or Accompanied by Parents or Legal Guardian for the Duration of Their Stay
No Smoking in Condos or on the Balconies at Majestic Sun--Smoking Area is Located in the Parking Garage 
Pets are Not Allowed for Rental Guests at Majestic Sun
AHHHHHH
Thanks for a great week. The unit location was perfect. I sat on the deck and listened to and watched the waves for hours, which is exactly what I needed. Rest and relaxation. Ahhh. The unit was clean and well supplied. The coffee maker didn't have a filter, so we bought some and left them there in the unit for future guests. Waking up the morning after a long drive in and not having a coffee filter was not cool, but, I used a paper towel until I could get properly coffeed and purchase filters. Crisis averted. We enjoyed the area very much. Also, the pool and hot tub were wonderful. Destin is our New Years go-to place; and Magestic Sun is our go-to building.
12/26/2016
Everything We Imagined and More!!
This Majestic Sun condo was a real treat! Everything was accurately described, and the view was absolutely breath-taking!! Pictures do an injustice in terms of space in this wonderful condo. A lot bigger than we had imagined! Located right across the street from the beach, literally a couple steps away. We enjoyed the fact that you could see the sun rise and set from the balcony. A real treat! We arrived in the later hours of the evening, and the building was a little difficult to find according to GPS. The owner had great patience with us and guided us in the right direction in good spirits. WE WILL BE BOOKING AGAIN!!!!
10/18/2015
Crazy Awesome View
My daughter decided she would like to have a bachelorette vacation week in Destin. We were looking for a nice place with a great view and convenient to the beach. Wow, did we ever score! This place was amazing and had views that can't be beat! I spent most of my time there on the balcony overlooking the beautiful beach and emerald green gulf. This place has a full on view, unobstructed. The other side overlooks a pretty lake and had some spectacular views of sunsets and storms passing behind us. The condo itself was clean, festive decorations and well supplied. We cooked in the condo and found everything we needed. The pool was clean and refreshing for those days when we were a little beach weary. One word of caution, the pool cop will harass you if you aren't wearing your bracelet, even if you are just passing through. For entertainment there are restaurants and shopping within walking distance and plenty of other activities a short drive away. We did a sunset dolphin and sunset cruise that was wonderful!
08/07/2015
Great view, location, amenities, and well maintained!

Highly recommend this condo. Much more spacious than the pictures and the ocean view is amazing!
08/19/2017
It was amazing. We could not have had a better experience

Got there Sat and weather was a little rough also on Sun but then it turned awesome for the rest of the week. It was so easy to get to the beach each day and the sound and view of the gulf from the balcony was incredible. We plan to be back next year.
10/21/2017
Great condo

Very well kept.
VRBO Review #23476649 submitted 9/28/2018
08/18/2018
A room with a Great View
The whole area was in great shape . The room was very clean and had a great view front and back. It was supplied with everything you would need. The pool area was clean and orderly . The stay could have been better if Hurricane Michael had not showed up and caused the Mandatory Evacuation after only two days there. I hope to come back and enjoy a whole week next year.
VRBO Review #24094749 submitted 10/17/2018


10/06/2018
Beautiful

Love it condo very clean view was wonderful will stay here again,
HomeAway Review #24587894 submitted 11/30/2018
11/18/2018
Nice condo

A great space for our family with good amenities. Perfect distance to the beach!
HomeAway Review #25519543 submitted 3/17/2019
03/09/2019
location!

The location of this condo is perfect. We enjoyed the stay very much. I do wish there was an information book in the condo for what is on the property. It took us till the end of our trip to find the heated pool. Other than that. Great stay!
HomeAway Review #25666798 submitted 3/30/2019
03/23/2019
very nice

This is a very nice place. The condo was clean, has a beautiful view of the ocean, and the property has lots of amenities. We really enjoyed our stay.
VRBO Review #26109384 submitted 5/9/2019
04/27/2019
loved it

We really enjoyed our stay!
VRBO Review #26206800 submitted 6/10/2019
05/09/2019
so clean!


The rental process was very easy and the cleanliness of the condo was top rated. The view of the ocean was unforgettable. The water clear and I understand why they call it the Emerald Coast now. The grounds of Majestic Sun was impeccable. The condo itself was exactly as stated in the description and not misrepresented at all, very clean and updated. The only issue was with the dryer in the condo, it took several cycles to dry any load of clothes or towels, but everything else was great! Thank you so much and we really enjoyed our stay, will rent again for sure.
VRBO Review #26963842 submitted 7/7/2019
06/29/2019
2nd year in a row - repeaters and still loving it

We had a great experience from start to finish with our reservation. Renee and Laura were so professional with taking care of our accommodations. It is our 2nd year in a row to stay at this condo. We love it! We will definitely contact them for our future plans.
VRBO Review #27478527 submitted 7/24/2019
07/06/2019
close and convenient


We had a great time at Magestic Sun! The condo was perfect for our family. We loved the proximity to the beach, pool, shopping and restaurants. The view of the beach is spectacular! We couldn't have been happier. Thanks!
Review #28056217 submitted 8/21/2019
08/10/2019
Beautiful view of the Gulf.
VRBO Review #54018742
The condo was clean. Beautiful view of the Gulf. We ate many meals on the balcony. Beautiful sunsets from the front porch. Parking was a bit hairy. Got allot of exercise walking from the parking garage. I think I'd drive a rental car next time. I drove my brand new 2020 vehicle and got 2 dings on my door. The ocean was really wild...red flag every day. So I didn't get to float in the ocean like I was looking forward to. Other than that we really enjoyed our stay.
05/16/2020
perfect for a family of 5

VRBO Review #54109550
Our family of 5 had a great stay at the condo.
06/06/2020
watched the fireworks from the balcony!

Excellent view of the ocean and fireworks on the beach, from the balcony. We enjoyed fishing on the lake behind the property. It was very busy and difficult getting an elevator upon check in, but understandable due to the holiday weekend. There were plenty of bath towels and kitchen utensils and dishes in the unit. We brought our own beach chairs but did notice a several chairs in the closet for use. We would stay there again.
Reviewer location - Martinsville, IN
VRBO Review #54975964
07/04/2020
will stay again

Great place to stay! Walk to beach was shorter than condos that don't have a road between them. Cars drive very slow and stop immediately when you get to the crosswalk! Condo was great size and had everything we needed. Restaurants and stores were very close and traffic is not as crazy as in Destin. Will definitely stay again.
VRBO Review #55289634
06/27/2020
Really liked the room and the overall building


First time staying in the Destin area. Really liked the room and the overall building. Loved the view from the balcony, the closeness to the beach and to restaurants and Supermarkets. Only minor item was some confusion of how to enter for parking and the fact that there were separate elevators for both the A & B buildings. At first, we went up the wrong elevator at check-in. But overall, this was minor inconvenience.
VRBO Review #56401326
07/25/2020
very clean


We loved our stay at the Majestic Sun! This unit had everything we needed, and was very clean. We took a chance on the weather by coming in late March, but the heated pool was quite warm, and the two hot tubs were very relaxing. The kids loved playing in the sand at the beach. We were initially concerned about having to cross the street to get to the beach, but every driver was very good about stopping for pedestrians at the crossings. The view of the Gulf fun the unit was amazing, and the view from the front door was really nice as well. We liked that the building is 100% smoke free. We will definitely try to stay here again when we come back to Miramar Beach.


03/20/2021
would rent this condo again big time


We love this condo. Clean and with a great view. The communication with the owner was amazing. We would rent this condo again big time


04/10/2021
perfect


Everything was great. The view was amazing, the second bedroom was great for my unexpected sister that came threw and stayed 1 night with us. It was perfect. Oh, but just make sure you grab some groceries on your way in so you don't have drive anywhere. Not many thing are walking distance.


05/01/2021
condo was very clean and nice


Great location, everyone is very friendly. Our condo was very clean and nice. The view was amazing and the beach was a short walk across the street.


06/12/2021
lots of great amenities

Great location with lots of great amenities. Loved the location. Okay noted the walk to beach and heated pool on rain days! (VRBO Review)

03/12/2022
listing matched the ad perfectly

Thoroughly enjoyed our stay! The listing matched the ad perfectly. The condo had great beach views and was clean and cozy. We needed a second parking pass last minute so I sent a message and when we came back to the condo it was on the counter! We didn't realize there was an umbrella and boogie boards in the closet till the second day but was a pleasant surprise. I prefer a firmer bed so the double beds were a bit too soft and uncomfortable for me but my partner had no issues. Overall it was a great condo! (VRBO Review)
05/12/2022
Loved double beds guestroom

Everything you need. Well supplied. Quiet. Great TV, watched UT play, abundance of towels. Loved double beds guestroom. Quiet, perfect. 4th year staying in this bldg; best condo yet. Beautifully furnished. Thank you. Hope to return. (VRBO Review)
08/27/2022
Great communication!

We loved the condo. Great communication! It was very clean. Beautiful view of the beach. Short distance to walk! (VRBO Review)
06/03/2023
Really nice to have the washer/dryer there

The condo was clean and exactly as described in the listing. Great view and beach access. Really nice to have the washer/dryer there. Be ready to wait on an elevator at peak times but it was never too long of a wait. (VRBO Review)
07/15/2023
Property Amenities
A/C - Air Conditioning
Air Conditioning
Balcony
Ceiling Fan(s)
Children Welcome
Coffee Maker
Dishes Utensils
Dishwasher
Dryer
Elevator
Family
Fitness Room
Garage
Heating
Hot Tub
Internet
Iron Board
Kitchen
Linens
Microwave
Minimum Age Limit
Oven
Parking
Pets Not Allowed
Pool
Refrigerator
Smoking Not Allowed
Stove
Swimming Pool
Television
Toaster
Towels
Washer
Beach Front
Budget
Deck Patio Uncovered
Dining Area
Dining Room
Flat Screen TV
Game Room
Gated Community
Granite
Grill
Gulf Front View
Gulf Side View
Hair Dryer
Heated Swimming Pool
Internet Includes Wifi
Living Room
Meals Guests Furnish Own
Outdoor Lighting
Patio
Private Beach
Satellite Or Cable
Saturday
Smoke Detector
Sofabed
Sports Activities
Tourist Attractions
Washer Dryer
Wireless Internet
Tennis Court
Indoor Swimming Pool
Golf Course on Site
Events Not Allowed
Golf Course
Spa
Bicycle
Kayak Canoe
Fitness Center
Boat