Majestic Sun 1010 A
Majestic Sun 1010 Updated Nice Condo with King Beds in Both Bedrooms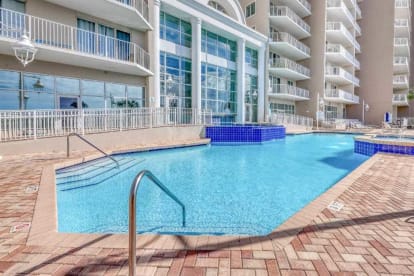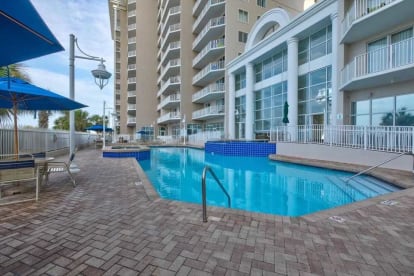 ---

My ECBYO Majestic Sun Listing
Description
Condo, 2 Bedrooms + Convertible bed(s), 2 Baths, (Sleeps 4-6)
A beautiful beach escape like no other!  Our five Majestic Sun lavishly decorated condos all have two bedrooms and two bathrooms, As well as Flat Screen TV's and wifi.
Majestic Sun 1010A vacation condominium offers panoramic views of emerald-green Gulf of Mexico waters and spectacular sunsets.
Enjoy all the luxury amenities this beautiful 12 story beach resort has to offer. Our condos are located on the 2, 3,6, 9  and 10th floors. Situated on 2000 feet of sugar white beach, the Majestic Sun at Seascape is one of Destin's premier resorts.
Here, your leisure and recreational choices are almost endless with an on-site 18 hole golf course, eight tennis courts, on-site fitness center, and a 3200 square foot heated indoor/outdoor pool with bubbling hot tubs.
There is truly something to satisfy everyone - championship sport fishing, designer outlet and boutique shopping, and outstanding gourmet or casual dining. With so many options you may just want to soak in the sun or take a sunset stroll enjoying one of the most beautiful beaches in the world.
No rentals under to parties under the age of 25 or parties consisting of mainly guest under 25 without the presence of parents.
Please be sure to call us for exact availability and prices. when able we often times run specials or have changes to the schedule. Calling is the best way to contact us.
Additional Special Features
Spacious open floor plan with two bedrooms, with two full baths
Direct oceanfront private balcony
Nine foot ceilings with ceiling fans in all rooms
Sleeps up to six with generous king beds in each bedroom or two twins in other units and a queen sleeper
Bed and bath linens provided (must bring own pool and beach towels)
Full size washer and dryer
Large Flat Screen TV with DVD player and Wireless High Speed Internet and TV's with VCR and DVD players in each bedroom
Garage parking with covered walkways to elevator
Only one mile from the Silver Sands Designer Outlet Mall and Destin Commons, a  shopping, restaurant, entertainment area.
Only a few miles from the Destin Harbor, boating, fishing, great restaurants and entertainment
From/To
Nightly
Weekend
Weekly
Monthly
Min Nights
06/01/2023
06/09/2023
$371
--
$1,997
--
4
06/10/2023
06/10/2023
$419
--
$2,279
--
7
06/11/2023
06/16/2023
$450
--
$2,450
--
7
06/17/2023
07/07/2023
$457
--
$2,597
--
7
07/08/2023
07/28/2023
$428
--
$2,997
--
7
07/29/2023
08/04/2023
$371
--
$2,397
--
7
08/05/2023
08/11/2023
$328
--
$2,297
--
7
08/12/2023
09/08/2023
$225
--
$1,497
--
3
09/09/2023
09/29/2023
$200
--
$1,697
--
3
09/30/2023
10/13/2023
$271
--
$1,897
--
7
10/14/2023
10/20/2023
$200
--
$1,397
--
3
10/21/2023
11/03/2023
$200
--
$1,397
--
3
11/04/2023
11/16/2023
$183
--
$1,095
--
3
11/17/2023
11/26/2023
$228
--
$1,595
--
6
11/27/2023
12/14/2023
$183
--
$1,095
--
3
12/15/2023
12/30/2023
$267
--
$1,597
--
3
12/31/2023
03/02/2024
--
--
$1,095
--
56
$500 Advance and the Balance Paid 30 Days Prior to Arrival for Weekly Reservations
Guests must be over 25 or Accompanied by Parents or Legal Guardian for the Duration of Their Stay
No Smoking in Condos or on the Balconies at Majestic Sun--Smoking Area is Located in the Parking Garage 
Pets are Not Allowed for Rental Guests at Majestic Sun
Beautiful Condo and Great Location!
We were at Majestic Sun for a few days during Thanksgiving week - and it was just what we needed! First, the location is great. The beach is right there and the views are incredible! Plus you can walk to grocery stores and restaurants. The grocery store is about a mile away but easy to walk if you only grab a few things. Second, the building seems well maintained with good access to parking and a nice pool and fitness center. But best is the condo itself! It is a great size with two large bedrooms and two good sized bathrooms. The kitchen is well equipped with new appliances. It has been recently updated and is beautifully decorated - comfortable furniture and a full dining set - plus seating at the island. And the balcony is a great size, again with good seating options - and a million dollar view! We will definitely try to stay at this place again! Just what the doctor ordered!
11/22/2016
Sweet
This is a great place. It is very clean and decorated really nice. Will stay here again next year
11/29/2016
Great unit and location. Just as described. Good communications. Enjoyed our stay.
Would encourage anyone to rent this beautiful property. We hope to rent it again.
04/28/2017
Awesome Place! Beautiful View!

Owners are very friendly and helpful. The condo is updated and very well kept! Definitely recommend this for a vacation!!
07/01/2017
Very Nice Condo

Just a little bit of a walk to get to the beach from building A as you have to walk out rear door to center of building then through indoor pool area back out front and across street. Property was clean and well kept.
09/09/2017
Vacation

Updated and clean. This is the best condo we have stayed in at Maravilla. Would recommend this to others and will stay there again.
09/09/2017
Nice Development, Nice Unit

Property is in good condition and very convenient to everything. Property manager was very helpful and this was a very easy nice getaway. I would recommend it to anyone.
10/14/2017
My family and I had a great time, great location and the accomodations were very good

Our overall expercience was great. A good time of year and a great location
10/07/2017
Great Location and View from our Room!

Enjoyed our short getaway to the beach after Christmas, wish the weather cooperated but still had a great time. Nice unit with easy access to the beach and parking. Would recommend to friends and family !
12/26/2017
Very Enjoyable and Relaxing. Just What we Wanted!

Very nice condo in a great location! Loved the view and it was an easy walk to the beach. I would definitely rent this condo again.
02/10/2018
Amazing views. Comfortable and instructions to enter the property etc were very understandable.

Overall the property was in great condition and has everything you'd need to spend time away from home. We enjoyed our time, and anticipate returning to the area again next year.
02/24/2018
Great location
Condo was nice, clean, and a great spot for or spring break. Thank you!
VRBO
Review #21689278 submitted 4/7/2018
03/24/2018
Amazing getaway - clean, convenient and charming!
Me, my husband and 5 year old needed a quick getaway for a week and found this treasure. Great price for all that you get. Easy access to pool and beach with a beautiful view of the water from the balcony. So relaxing. Kitchen had everything we needed to cook. It was so easy to get in and access everything - instructions were perfectly laid out.
We will definitely recommend this property to friends and family and will return! You won't regret booking this beautiful condo!
VRBO
Review #21918339 submitted 5/4/2018
04/23/2018
Wonderful time
This was such a nice place to have for our first experience of the Gulf. Great location, cheaper then a hotel I was going to book and literally across the street from the beach with clear beach view. Condo amenities (pool, fitness room, and parking) were nice. Close to grocery store for supplies and walking disance to restaurants and beach supply store. Would definitely come back.
VRBO
Review #21857498 submitted 5/4/2018
04/18/2018
Very nice condo
This condo had everything we needed to enjoy our stay in Destin. I would suggest this to any couple or young family. Kitchen was supplied with all you would need and washer/dryer came in handy. Would definitely stay here again.
VRBO
Review #21441534 submitted 3/13/2018
03/03/2018
Place was nice clean decorated very tastefully
Enjoyed everything about condo.
VRBO
Review #21909945 subnmitted 5/4/2018
04/07/2018
As expected
Pics are accurate. Clean, nicely decorated. Very short walk to beach. Within walking distance to several restaurants if you wish. It's very pet friendly, so expect to see dogs. No problem for us, we have two. Our contact helped us resolve a TV issue on our first day, very helpful. Will book again.
VRBO
Review #21919389 submitted 5/4/2018
04/21/2018
Vacation on the Beach
My daughter,two granddaughters & myself had a wonderful stay in this condo! It was an amazing vacation The beach is so clean with white sand We played in the ocean or at the pool all day long🌴
VRBO
Review #22507683 submitted 6/25/2018
06/09/2018
Great place to relax!

Wonderful condo. Everything was clean and neat when we got there. Great view of the oven. Will come back again.
VRBO Review #23685091 submitted 9/9/2018
09/01/2018
Great place to stay! Excellent views!

Great place to stay! Excellent views! My husband and I had a great three day getaway in this wonderful condo! We love the area and can't wait to come back!
VRBO Review #23897362 submitted 9/29/2018
09/01/2018
Great Place to stay.

Our condo was very clean and furnished nicely. Beds were very comfy.
VRBO Review #24214761 submitted 10/24/2018
10/06/2018
lovely
The condo is lovely- centrally located and has everything you need. We were there for spring break and were concerned with noise and elevators. Neither were a problem at all. I would highly recommend if you're looking in the area. Also, Fat Clemenzos is right around the corner and has wonderful Italian food!
VRBO Review #25773457 submitted 4/9/2019
03/30/2019
they thought of everything

Wonderful condo. It had everything our family (2 adults/2 teenagers) needed. Take advantage of the beach chairs and umbrellas provided. The decor in every room was up to date. The balcony had plenty of space for us to sit and look for dolphins in the morning and relax after dinner. Multiple wrist bands for the pools and multiple keys for the condo provided. The owners provided useful information/reminders prior to arriving, prior to departing and follow up after departure, all three were appreciated. The resort is conveniently located within walking distance to a couple souvenir shops, a Dairy Queen, a couple places for food/drinks and plenty of access to sidewalks to walk/run if you like. Also within a mile to a grocery store. Happy with our decision to stay at this location.
Review #25931951 submitted 4/23/2019
04/13/2019
perfect

★ ★ ★ ★ ★
Date of arrival - May 11, 2019
It was nice having a 2 bedroom, everything was perfect, it was clean. Everything you needed to make a meal, beautiful view of the ocean!!!
VRBO Review #26196339 submitted 5/19/2019
05/11/2019
loved the view

My family and I really loved the condo! It accommodated us perfect for 5 people (4 adults and 1 child)! The view from the balcony was awesome! We seen dolphins, sea turtles and a sting ray from the room! It was clean and comfortable for all! We would recommend this unit to anyone! Really enjoyed having two bathrooms! Would certainly stay here again!
beachcondosindestin.com comment submitted 08/16/2019
08/10/2019
updated nicely

VRBO Review #54187047
Inside of condo was updated nicely. We really enjoyed the tile throughout the unit. Only item I would recommend is to replace shower heads with something newer and more pressure. View from 10th floor balcony is outstanding.
06/06/2020
my favorite

Ive stayed at several Majestic Sun properties and this by far is my favorite! Clean, kitchen/baths are nicely done... balcony furniture was the best too. Don't always get that with rentals. Will definitely stay again
03/13/2021
had the time of our life

There were four adults in our party. We had the time of our life. We always love going to Miramar Beach and this condo helped make it all perfect. All of the decor and appliances were great. Only one minor change we would suggest, change the shower heads. Other than that, absolutely perfect! Loved our visit and the condo!
05/08/2021
clean and exactly what was listed
We love staying at Majestic Sun. We have not stayed at the same condo but we have loved each stay. The condo was clean and exactly what was listed. We had no issues with out stay and would definitely stay here again.


06/05/2021
enjoyed our stay
We enjoyed our stay and condo was just the right size. Thanks for trusty's with your property.


06/12/2021
definitely recommend!

We had a great stay at this property and the owners were very responsive. Would definitely recommend!
07/10/2021
loved the full service kitchen/tools

I loved the king size beds in both rooms! Plenty of room for my in laws & my family! Also loved the full service kitchen/tools. Great view of the ocean and quick/easy walk to the beach. The owners were easy to communicate with.

07/31/2021
You won't disappointed!!


First time staying at Miramar beach, great experience. The place was nice, the condo has pretty much everything for your stay at the beach. You won't disappointed!!


08/14/2021
kudos to the elevators

We absolutely loved this property. I wanna give big kudos to the elevators especially. We didn't wait any longer than 1 minute a single time which is the complete opposite of our trip last year (diff condo). The check in process was a breeze and the hosts responded to my messages right away. The condo was very bright and beautiful. The 2 king size beds were comfy and was able to crash in seconds. I was kind of leary In regards to there being a street between the building and the beach, however we didn't find any issue with this at all other than if the pool area was closed you had to walk around the building to get to the front. Even with that being said it wasn't a very long walk at all. We were within walking distance to several restaurants and it is also right on scenic drive, which we loved. We loved the balcony and our view. We even seen several dolphins out in the ocean on several mornings during our stay. This place will surely be remembered and on the top of the list to return in the near future. Thanks. (VRBO Review)
08/20/2022
loved the area

Loved the area in and around Majestic Sun
09/15/2022
convenient for beach activities.

Nice place, convenient for beach activities. Nice room, great view. Easy in and out.
09/22/2022
easy process to book

Overall easy process to book and owner was incredibly kind and helpful. Condo was perfect for our family getaway. Thank you for the opportunity to stay in such a lovely area, we greatly appreciate it.
11/05/2022
Dining Room
Dining Table
Eat in Counter
Bedroom Extras
Private Bathroom
Alarm Clock
Cooling Comfort
Ceiling Fans
Central Air Conditioning
Entertainment
Big Screen TV
Boating
Cable TV
DVD Player
Fishing
Golf
Gaming Consoles
Jet Ski
Kayaking
Minature Golf
Scuba
Snorkling
Stereo
Swimming
Television
TV/DVD
Smart T.V.
General
Linens Included
No Pets
No Smoking
Vacuum
Fitness Center
Elevator/Lift
Managed by Property Manager
Kitchen
Washer/Dryer
Blender
Can Opener
Coffee Maker
Dishes
Dishwasher
Disposal
Fully Equipped Kitchen
Ice Maker
Ironing Board
Kitchenette
Microwave
Oven
Pots and Pans
Refrigerator
Stove
Toaster
Utensils
Outside Living
BBQ Grill
Gulf/Ocean Front
Parking
Parking Available
Garage Included
Boating
Boat Rental Available
Marina
Bathroom
Linens & Towels
Private Bathroom
Shower/Tub Combo