Majestic Sun A701
Majestic Sun A701 luxurious corner 3 bed 3 bath with ocean views from 2 sides!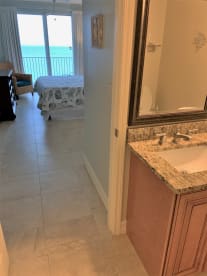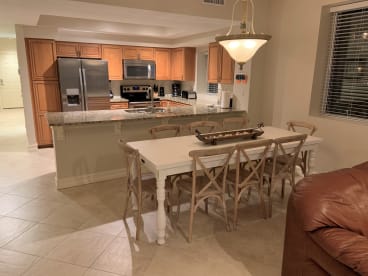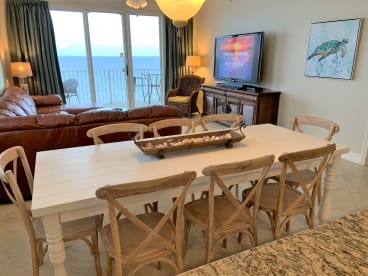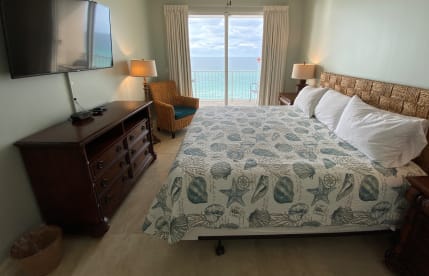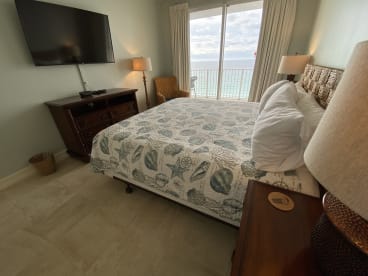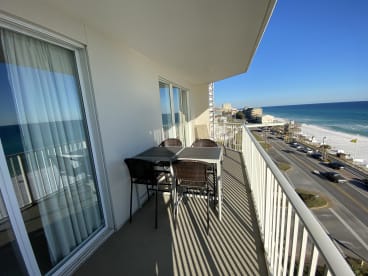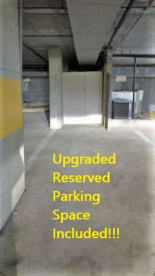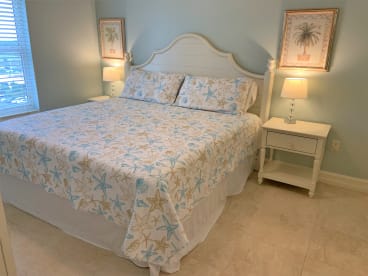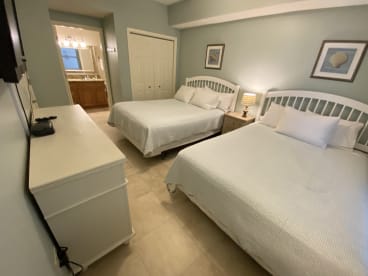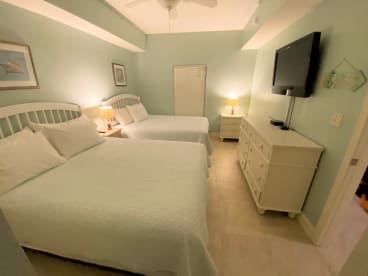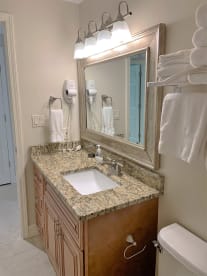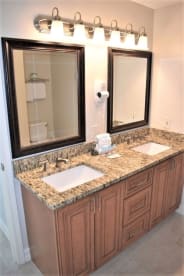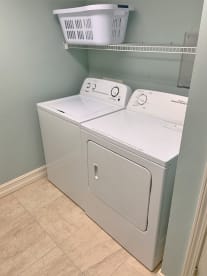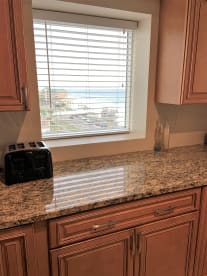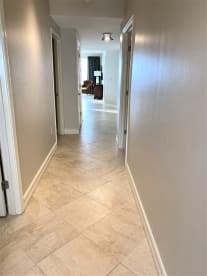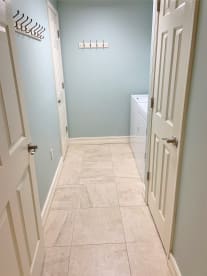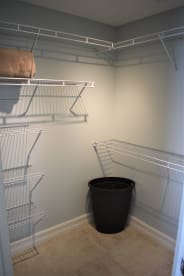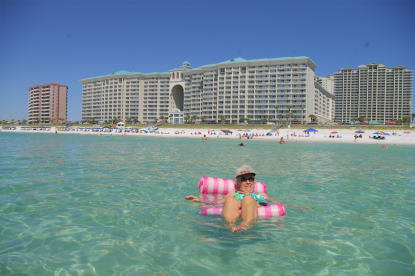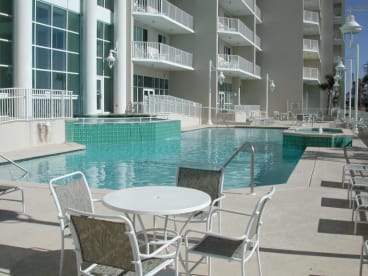 ---

My ECBYO Majestic Sun Listing
Description
* WE ONLY RENT WEEKLY FROM SATURDAY TO SATURDAY AND WE DON'T OFFER ANY DISCOUNTS OFF ADVERTSIED RATES.  THE TOTAL PRICE IS THE PRICE BY WEEK, PLUS LISTED FEES BELOW RATES BY WEEK SECTION,, PLUS 12% LODGING TAX.  EMAIL US ANYTIME AND WE'LL CONFIRM CONTINUED AVAILABILITY  AND PRICING.  RATES AND FEES ARE SUBJECT TO CHANGE ANYTIME PRIOR TO US ACCEPTING YOUR BOOKING REQUEST.

HARD TO BEAT 7TH FLOOR CORNER OF BUILDING LOCATION WITH LUXURY FINISHES AND ENDLESS WATER VIEWS! SLEEPS EIGHT GUESTS IN THE PRIVACY OF BEDROOMS... A COMFORTABLE KING BED IN THE MASTER SUITE AS WELL AS A KING BED IN BEDROOM 2 WHICH CAN SERVE AS A SECOND MASTER SUITE WITH ITS' OWN PRIVATE FULL BATHROOM.  BEDROOM THREE FEATURES TWO LARGER QUEEN SIZE BEDS, NOT THE TYPICAL SHORTER LENGTH TWIN AND FULL BEDS FOUND IN MOST MAJESTIC SUN 3 BEDROOM CONDOS. EVERY STAY RECEIVES A COMPLIMENTARY UPGRADE FOR ONE RESERVED PARKING SPACE IN THE BUILDING'S GROUND FLOOR, GATED OWNERS GARAGE.     

Premium finishes and awesome gulf views from both sides of this corner of the building vacation condo.  Our condo is extensively remodeled with many premium finishes.  As an added bonus one reserved parking space is included with every stay in Majestic Sun's ground level gate restricted owner's garage!   

Upgraded features include custom kitchen and bathroom wood cabinetry, granite counter tops, porcelain tile floors throughout (not a stitch of wall to wall carpet anywhere!), and a luxury 14" memory gel king mattress in Master Bedroom.  Custom ceiling lighting on dimmers, large 65 inch Roku TV in living room, 55 inch Roku TV in Master Bedroom and flat screen televisions in Bedroom two and three.  Our condo features two king bedroom suites with private bathrooms as well two full length queen beds in bedroom 3 

Majestic Sun is one of only a few Destin resort properties to offer and indoor heated swimming pool that transitions to an outdoor pool with waterfall and hot tubs.  Majestic Sun is located within the gated resort of Seascape.  Seascape Resort offers our guests many additional pay for use amenities including daily beach service,  on resort golfing, an amusement center and zip line, dining options, clay tennis courts, bike and scooter rentals, para sailing, jet ski and paddle board rentals.  All of the mentioned amenities of Seascape Resort are within walking distance of our condo but none of these amenities are included in our rental prices, extra fees for use will apply. We reserve the right to correct any error in our advertised pricing prior to us accepting a booking request.

NOTE:  WE DO OFFER OFF SEASON MONTHLY EXTENDED STAYS (DECEMBER 1ST THRU MARCH 5TH). EMAIL US FOR PRICING, PAYMENT TERMS & CONDITIONS FOR MONTHLY STAYS. 

Please email us anytime with any questions you may have about a stay at our vacation condo, or to confirm availability and pricing...
From/To
Nightly
Weekend
Weekly
Monthly
Min Nights
06/17/2023
06/24/2023
$524
--
--
--
7
07/08/2023
07/15/2023
$559
--
--
--
7
09/02/2023
09/09/2023
$299
--
--
--
7
09/09/2023
09/16/2023
$259
--
--
--
7
09/16/2023
09/23/2023
$249
--
--
--
7
09/23/2023
09/30/2023
$259
--
--
--
7
09/30/2023
10/07/2023
$259
--
--
--
7
10/07/2023
10/14/2023
$379
--
--
--
7
10/21/2023
10/28/2023
$249
--
--
--
7
10/28/2023
11/04/2023
$218
--
--
--
7
07/15/2023
07/22/2023
$559
--
--
--
7
08/05/2023
08/12/2023
$429
--
--
--
7
08/12/2023
08/19/2023
$359
--
--
--
7
08/19/2023
08/26/2023
$349
--
--
--
7
08/26/2023
09/02/2023
$299
--
--
--
7
Parking Fee (per week):
$35
Property Fee (per week):
$179
Admin Fee (per week):
$185
- Add Fees (per week) to the weekly rental rate, plus 12% tax.
- Weekly max occupancy is 8 (includes newborns and overnight visitors, no exceptions).
​- No groups of students, whether chaperoned or unchaperoned.
- Credit card payment included in price.
- Parking permits for up to 2 cars, including 1 reserved covered parking space.
- Rates & Fees are subject to change anytime prior to us accepting your booking request.
Perfect Vacation - Awesome Condo

Very spacious condo with gorgeous views. Definitely would stay here again and again.
03/17/2018
Beautiful condo with a great view. Definite place to come visit!

The three bedroom 3 bath had plenty of room, beautiful decor, and great location to the beach. The heated indoor/outdoor pool was a must this winter. We enjoyed our stay and would love to come back!
12/30/2017
Fantastic stay.

We had a great stay. Unit is clean and modern. Plenty of room for mom, dad, grandma, grandpa and 2 kids. Great property manager. Thanks Mike!
10/21/2017
Beautiful place. Outstanding views.

The condo was perfect for our family. The owner was very responsive to pending weather concerns. We had a great trip.
10/14/2017
Fantastic Vacation

We stayed in unit the week of Sept. 2-9, 2017. The condo was just as advertised clean, spacious, well furnished and decorated and had all the necessities needed. The perfect vacation get-a-way. From the initial booking to our arrival and departure the communications from Mike the owner was professional and top notch. Mike clearly has a system in place for communicating things like the door combination to dealing with any issues (we did not have any issues). The views from the balcony are spectacular with a panoramic view of the Gulf of Mexico. The location of the condo is great, out of the hustle and bustle of downtown Destin yet within walking and driving distance of restaurants and attractions. Would definitely recommend this condo if you are considering a vacation in the Destin area and I would definitely stay here in the future!! The weather for the week was Sunny and 85-88 degrees during the day and 70-75 degrees at night.
09/09/2017
Destin Yearly Family Vacation 2017

The complete package of information we received from Mike was great. We were able to pack two containers of miscellaneous supplies. The unit was very clean and had a great layout for families. I would definitely recommend this place for families that require three bedrooms. My family has stayed at the Majestic Sun for the past four years.
08/12/2017
Beautiful condo with gorgeous views

My family and I enjoyed our vacation at this condo! Mike was very easy to work with too. Overall, we had a blast and hope to return again!
07/29/2017
I would highly recommend this property! It was very clean and fresh looking.

This place was very nice with plenty of room. It was decorated in good taste and the amenities located within the condo were above what is normally provided. Everything was in great working condition and the fact that the place was very clean, made our stay very enjoyable. We had a beautiful view of the ocean! I would definitely stay here again!
07/22/2017
Exceptional property with exceptional owners.

Everything was as advertised and as displayed in the pictures - yes, the property is as nice as it looks! Actually I think it exceeded the pictures and the location and views were excellent. It was clean and well stocked with clear instructions for everything. We have stayed in other Destin properties in the past but this was by far the nicest. The owner was patient and helpful as I was very nervous and hesitant about the whole non-hotel, renting from individuals thing. We strongly recommend this property. You will not be disappointed.
05/13/2017
Fantastic Condo, Don't hesitate to book this property.

This condo is in excellent condition, recently updated. Great space for a family.

Only a few steps to the ocean across the street.

The televisions and cable excellent.

The kitchen is outfitted very nicely compared to other properties I've rented. Washer and Dryer in unit.

Large Refrigerator/Freezer with Icemaker (and the ice and water taste fine). Plenty of cabinet and pantry space.

The balcony and view are fantastic.

The pools and hot tubs are great.

Location is very central to everything.

Check in and check out was easy, door is keyed with a code so no keys to lose.

Plan to bring your own beach gear, not provided.... or use the store in the first floor of building to purchase gear and souvenirs. Chairs can be rented on the beach but cheaper to just buy them for the week.

CVS and Grocery (Winn D and Publix) are a short drive. Walmart 15 min drive.

Restaurants within short walk of the unit, Whale's Tail and Pompano Joes, many others within short drive.

The owners clearly take great pride in their property.
04/01/2017
Great Condo

This property is very clean with many updates. It is in a great location and has wonderful views from the balcony. The check in/out process was extremely easy and smooth. We had a wonderful time and plan to return to this property on future visits. I would recommend both this property and the location without reservation.
09/16/2017
We will be back.

The view is awesome from the balcony and we were lucky enough to see dolphins playing fairly close to the shore on several mornings.The condo itself was clean and spacious and up to date.
08/15/2015
Great Property / Great Location

This property is very clean and up to date. Very spacious. Great location relative to the beach and other things to do (shopping, restaurants, etc). Owner has a solid process in place to facilitate check in / check out. Everything went very smooth & communication was very to good. This was our first trip to the Destin area, the beach & water are unbelievable, very Caribbean like. The sand is white and powder fine, and the water turquoise blue & 85 degrees (late July time frame). I would recommend both this property and the location without reservation.
08/01/2015
Great Place. Clean and Comfortable!

We stayed at this location in May, 2015. The room was very spacious and was very clean. It met all of our expectations. The view was great and we loved being on the end of the building. We will definitely consider staying with this rental again.
05/23/2015
Beautiful condo!

We loved staying in this condo. The view is beautiful. The condo is spacious, up to date, very clean and inviting. Our family highly recommends it!
04/04/2015
lovely view and great condo

Corner view condo that has balaconies with views for miles! Living room is very spacious! Kids loved the very large TV'S and lots of bunk space. Kitchen was stocked well and very modern. It is all very tastefully done with high end furnishings.It was all that we were hoping for on our recent spring break trip with my family. The Majestic Sun is a great location near outlet malls and lots of dining so there was plenty for our teenagers to do. The beach and property were very family oriented. Will certainly love to come back here!
03/28/2015
Perfect condo for a family getaway!

We absolutely loved this condo! It is clean, spacious, and beautifully decorated. The owner is very helpful and easy to contact. Our little ones enjoyed the heated pool and the adults enjoyed the shopping outlets! The condo is conveniently located near plenty of great stores and restaurants. If you like to stay indoors, the view is amazing! I'm already looking forward to our next Destin vacation!
11/29/2014
PERFECT!

We LOVE this condo! It was perfect for our family (including Nana and a couple of teenagers!) vacation to the beach. Plenty of room and the views were beautiful. Owner was super easy to work with and arrival was a breeze. We will be looking to stay at this condo again.
10/11/2014
Great place for a family vacation

Our family of five thoroughly enjoyed our stay. It was very clean and well-maintained. We had everything we needed and wanted. The view is fantastic, so we felt we were able to enjoy the ocean whether or not we were actually on the beach. Our three children, ages 4,7, and 9 had a blast! The owner was very helpful. We will be back!
10/04/2014
Beautiful

Awesome condo. This condo is exactly like the pictures and is very clean. We really enjoyed our stay at Majestic Sun in Destin and plan to return.
08/30/2014
Beautiful condo with spectacular view!

My family rented this condo for our summer vacation and we could not be more pleased!

It is newly remodeled with granite counters, new appliances, and tiled floors throughout, plus a million dollar view. The condo was very clean and kitchen was well stocked for the nights you eat in. We brought 2 families together and the condo is nicely set up, 2 BRs with king beds for the adults, and the children in the 3rd BR, which sleeps up to 5 comfortably (or there was room on the sofa sleeper). The arrival instructions were clear and easy. We had a few questions mid-week and the owner, Mike, quickly responded to text message and email. If you are like me you will search many on this website, I definitely recommend this one, you will not regret your decision!
08/09/2014
Beautiful!

Beautiful Condo that is decorated well! Lots of nice upgrades. Owner was very nice and helpful with any questions. Would recommend this condo to friends!
06/21/2014
A Great Beach Week!

Stayed for a full week... wonderful condo with certainly upscale decor and excellent taste throughout. Had 8 staying comfortably, eating in most nights with the fully equipped kitchen. Enjoyed the superior end unit beachfront views from two sides, full size washer & dryer, and easy tile floor sand clean up. Of note, we were there over the 4th of July, and the condo was well insulated from outside and adjacent condo noises.
07/05/2014
Great condo

Beautiful condo. Great views and location. We had 8 adults in our group and had plenty of room. We would recommend this condo and we would stay here again.
06/14/2015
Excellent!

Condo was awesome. Mike is great to work with. View and location awesome
05/05/2018
Convenient lay-out to condo and easy access to beach...

Enjoyed staying over the 4th of July with watching fireworks on the balcony. Great with small children.
06/30/2018
Beautiful condo with a gorgeous view of Miramar beach!

Our family had a wonderful vacation, and the condo was spacious, luxurious, and family friendly.
07/07/2018
Spring break

Overall this was a great unit - very clean and fully stocked with anything you need for cooking, etc. The owner was very thorough in communicating and making it super easy every step of the way!
03/30/2019
Awesome vacation rental!

Everything about our stay was excellant! This condo and property are so well kept and clean. We are booking for next year! The large sized couch, comfy beds, balcony, and kids room set up were some of our favorites. Not to mention the indoor pool and shade the outdoor pool got in the a.m. We traveled with 3 young children and this trip could not have gone better!
05/18/2019
Great!

The condo was awesome!! The view was amazing!!! I loved having my coffee watching the waves early in the morning! The kids loved being able to come and go to the beach all day!
06/29/2019
2019 Family Vacaion

We each and everyone in the family loved our stay in the condo. It was clean and had everything we needed. I loved the sweeper to clean up any sand that was tracked into the condo. I would stay here again. Thank you
07/27/2019
Great Location

Nice updated appliances. We have vacationed 6 times in Destin. This condo has been our favorite to date!
08/10/2019
Amazing Family Beach Vacation!

We enjoyed all of the amenities the property had to offer - from the close walk to the beach, indoor/outdoor pool and the parking spot! The kitchen was well stocked, beds were super comfy, the condo was extremely clean / orderly and the view from the balcony was incredible! Mike made it seamless for us from booking to checkout - we will definitely be back! Thank you for sharing your place :)
10/05/2019
Amazing Condo and Wonderful Communication During A Pandemic

This was not our first time staying at Majestic Sun but our first time in this condo. We loved the area and ultimately decided to head down because we knew the beach in front of Majestic Sun was not a "crazy busy" beach. Mike, the owner, was in constant communication with us during the shut down. I am very thankful for his patience! The condo was just a described and matched the photos perfectly! Gorgeous corner unit with great views and natural light. We love the short walk to the beach...made it easy to run up and have lunch if we wanted to get out of the sun. The garage parking space was a big part of choosing this unit! All in all if we make our way back to Florida we would definitely book with Mike again.
06/06/2020
Great

Nice location and nice condo.Nice owner
06/13/2020
Family Vacation 2020

The unit was very nice and clean. Mike always stayed in contact with me and was easy to reach. We still wish we were there, but had a great trip.
06/20/2020
Great Condo

The condo is clean and spacious with gorgeous views. It is well stocked with everything you need We will be back!
07/11/2020
Outstanding Condo

Our Family recently enjoyed a one week stay in this Condo. The Condo owner was extremely helpful regarding the check-in process. We LOVED our Condo and it was stocked with everything we needed. The view from the balcony was amazing. We drove over to Santa Rosa Beach for dinner several times and it was quick and convenient to drive to Santa Rosa Beach from our location. We also rented a Pontoon Boat and spent some quality time at Crab Island. I highly recommend it!! We will absolutely book this Condo again for our Family Vacation Destination.
09/05/2020
Great View of the Beach

Great property to stay . Great close view the beach and ocean. Clean comfortable styled condo for vacation.
09/12/2020
Everything as advertised.

Great communication. Very easy.
07/17/2021
Week retreat

Could not have been better place for our family gathering. Had everything we needed, was impressed there was even pasta pan and colander… as well as several sizes of baking dishes
07/10/2021
THE BEST CONDO!!

Our family of 4 loved this condo. We had space to spread out and relax, a must with 2 teenage boys, and then all hang out in the kitchen and living area very comfortably. The view was stunning!! We spent our mornings and evenings on the balcony and every other chance we had to just soak in the whole ocean experience. You didn't feel guilty for chilling on the balcony instead of being in the sand sometimes because you are so close to the beach. The condo is equipped with ANYTHING you need in the kitchen, and the unit was spotless when we arrived. Mike responded almost immediately when I had a quick question. I could go on and on, but I won't. We will rent this again for sure!!
05/29/2021
A701 Majestic Sun A

Stunning views!
05/15/2021
Great Location

We had a beautiful stay. Our communication with the owner was thorough and easy.

We had a condo located on the end of the building so we had a beautiful view from the side of the building along with a gorgeous view of the ocean from both patio sliders. The space was perfect for our family of 6!
04/10/2021
Beautiful condo!

This condo exceeded all of our expectations! Traveling with three children under 5 was nerve wracking, but this rental was perfect for us. Spacious, clean, across the street from beach access. Heated indoor pool was an amazing amenity for us. Mike provided us with all of the information we needed for arrival, and he was very thorough. Every text or question was answered immediately
05/15/2021
Great Views and Awesome Communication with Owner!

This was my sixth time staying at the Majestic Sun. This owner was by-far the easiest to communicate with!

The rental had great ocean views, and was very comfortable! Plenty of room to stretch out!!! If you plan on cooking this condo has everything you need.

I would rent from this owner again.
05/08/2021
Great Girl's Getaway

This condo was perfect, it's beautiful and in a great location. The weather was not real cooperative during our stay but we had a great time spending time together in this condo. We would definitely recommend!
03/13/2021
Dining Room
Dining Table
Eat in Counter
Bathroom
Bathtub
Linens & Towels
Private Bathroom
Shower/Tub Combo
Freestanding Bathtub
Bedroom Extras
Private Bathroom
Walk-in Closet
Alarm Clock
Cooling Comfort
Ceiling Fans
Central Air Conditioning
Disability Access Features
Entertainment
Big Screen TV
Cable TV
DVD Player
Swimming
Television
TV/DVD
General
Linens Included
No Pets
No Smoking
Vacuum
Fitness Center
Condo
Elevator/Lift
Online Booking
Home Office
High Speed Internet Access
Wireless Internet Access
Kitchen
Washer/Dryer
Blender
Breakfast Bar
Can Opener
Coffee Maker
Dishes
Dishwasher
Fully Equipped Kitchen
Garbage Compactor
Ice Maker
Ironing Board
Microwave
Mixer
Oven
Pots and Pans
Refrigerator
Stove
Toaster
Utensils
Outside Living
Community Pool
Outside Shower
Porch Furniture
Private Parking
Indoor pool
Gulf/Ocean View
Gulf/Ocean Front
Balcony
View (Water)
Waterfront
Beachfront
Hot Tub/Heated Spa
Parking
Covered
Parking Available