Majestic Sun: Pelican's Perch 907B
Majestic Sun Beach Resorts/907B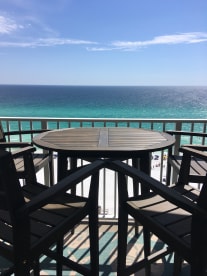 ---

My ECBYO Majestic Sun Listing
Description
Newly remodeled, 1 bedroom, 2 bath, condo in beautiful Majestic Sun on Miramar Beach.  This unit has a king bed in bedroom with new memory foam mattress, decorated in soft relaxing colors and is a tribute to the sea turtles in the Gulf.   There are comfortable bunk beds in the hallway and the living room is furnished with a new queen size sleeper sofa w/ a memory foam mattress.  We have made certain that there is comfortable seating for 6, including 2 pushback chairs, rattan chair and 2 barstools.  The dining table is a drop leaf, allowing for flexible seating for up to four people.  The master bath has a tub/shower combination and the hall bath has a large shower, (both equipped with hand held showers) We have gotten rid of the stacked washer dryer and installed a full sized stackable washer/dryer.  The kitchen is equipped with all new stainless appliances and all the small appliances one would need; as well as new copper cookware.  We have added more storage than can be found in most 1 bedroom condos.  The coffee table has a slide out top where pillows and blankets for the sleeper are stored.  The console offers more storage and in the kitchen entry we have added a free standing cabinet that also has convenient storage.  After many years of renting we knew more storage was definitely a must when we purchased our own unit.  Our remodeling is not totally finished, but we don't think you will miss those things not done while you are enjoying the relaxing, serene atmosphere we have created.  Our balcony is furnished with a  pub table w/seating for 4, (no more peeking through the rails to see the dolphin playing), and a deck box where we have stored beach chairs for adults and littles. We also furnish 6 beach towels for your conveniece and do ask that our guests launder them before leaving so they are ready for the next guest.  The views from the kitchen, living area and balcony are absolutely spectacular.  We couldn't get this view if we were located on the sand.  One can see for miles and miles to the South, East and West. There are several restaurants, etc. within walking distance.  A gift shop on the 1st floor and a huge indoor pool for you to enjoy if the weather doesn't permit going to the beach.  I know we are prejudiced but we do think this is one of the absolute best locations to spend a relaxing week or long weekend.
From/To
Nightly
Weekend
Weekly
Monthly
Min Nights
03/01/2020
04/03/2020
$182
$210
$1,274
--
3
04/04/2020
05/22/2020
$180
$200
$1,260
--
3
05/23/2020
06/26/2020
--
--
$1,725
--
5
06/27/2020
07/10/2020
--
--
$2,000
--
7
07/11/2020
08/07/2020
--
--
$1,725
--
7
08/08/2020
08/28/2020
--
--
$1,295
--
5
08/29/2020
09/04/2020
$200
$215
$1,350
--
4
09/05/2020
09/25/2020
$173
$195
$1,126
--
3
09/26/2020
10/09/2020
$205
$215
$1,334
--
3
10/10/2020
10/30/2020
$179
--
$1,165
--
3
10/31/2020
02/28/2021
$135
$145
$878
$2,500
3
Deposits and Snowbird Pricing
We require a minimum deposit of 20% when booking.

Snowbird Pricing:  The price we are quoting, $2500.00,  includes cleaning and taxes. We would require a $500.00 deposit when booking.
Majestic Sun: Pelican Perch 907B
We had booked our vacation for 907B the week of Oct 6 through the 13th. To begin with, the condo is, perhaps, the most serene and peaceful unit I've ever rented. Walking in the door and looking out at that fantastic view, then taking in the calm atmosphere that is 907B, told me it was going to be a fantastic week. Everything we needed, the view, pots and pans, flatware, towels, etc. were neatly in place. We settled in for a wonderful week on the beach. However, nature decided to mess it up when Hurricane Michael began heading in our general direction. The evening before it came ashore we reluctantly decided we should leave. The owner exceeded our expectations at that point by offering to pay for a motel in Fairhope, AL for 2 nights. When we left we were not at all sure we were coming back but decided that we would go back for the 3 nights left of our vacation. It was just too hard to not finish our vacation, especially since we had been treated so well. Walking back in the condo felt like we were home again. This will, most definitely, not be our last trip and when we return it will be to 907B. Oh, did I mention the view? Cheryl R San Antonio, Tx
10/06/2018
Magestic Sun Pelican Perch 907B
This condo was so beautiful and so comfortable! My husband and I loved everything about it! The ocean view was completely amazing! We will definitely book this condo in the future.
03/06/2019
Spring Break 2019
My husband and I took our four granddaughters to Florida for spring break this year. This condo was very charming and beautifully decorated. Our girls, ages from 6 to 13, all had a wonderful time exploring, swimming and dolphin watching from the balcony. It was furnished with everything we needed to make our stay comfortable and enjoyable! We definitely will return to this condo in the future. It was an excellent choice for our vacation!
03/17/2019
907B
Majestic Emerald View of Ocean from balcony. Clean beautiful decorated.
05/16/2019
Amazing View and Vacation
We traveled from Illinois for our vacation this year. Pelicans Perch was everything we'd hoped for!! The view from the balcony is breathtaking any time of the day! Such easy access to the beach and amazing restaurants. The condo is beautifully decorated and so homey and comfortable! Joni was so easy to get in touch with and booking was a breeze. We have already recommended a stay here to several friends and family! Thank you so much for sharing a little slice of heaven with our family!
06/08/2019
Affordable + well kept beach front condo!
We stayed last week at this beautiful condo. All positive from our end. The kids loved the pool and their own bunk in the bunk beds. The gift shop in the main lobby in building B was very nice. The unit was right next to the elevator and trash chute, making it very convenient with our 3 kids. I appreciate your family letting us stay here, we will be back!
06/08/2019
Amazing
We had the opportunity to stay at Pelican's Perch. We loved the décor and the views were unbeatable in the morning and even though we were on vacation we got up to enjoy the sunrise every morning. The Condo had more than enough amenities for our family and even a spare guest for a few days. Walking distance to great food like an Acme oyster bar and an ice cream shop. with a little drive we were at a Wal-Mart to stock up on food to cook for ourselves. Truly, it began to feel like home the longer we stayed. easy access to golf and the pool was wonderful when you didn't want to deal with sand. There is a great gift shop on the bottom floor and the ease of access to all the things we wanted to do could not be overstated enough. you can truly see the care and attention to detail the owners up into the unit and making it unique. This was truly a vacation to remember.
03/25/2019
Vacation 2019
This was our first time staying here and it was amazing. We had everything we needed. The only thing we didn't have was a hair dryer, but other than that everything was great. The view was amazing and we had a great time!
07/08/2019
Amazing condo!!
My husband and I just finished staying at Pelican's Perch in the Majestic Sun at Miramar Beach, and it was GORGEOUS!! Joni was so warm and accommodating!! Very sweet lady! she has the condo very beautifully decorated and it was so cozy and homey feeling! The view is absolutely breathtaking! If you are thinking about staying here and are wondering about her pictures, they are completely legit! She was a big help from start to finish with the booking process! Thank you so much for everything Joni, we will most definitely be staying here again!
09/13/2019
Awesome condo - Awesome owners!
It is with regret that I write this review - regret that I am writing this from cold, snowy Ohio instead of from this beautiful condo! This was our first visit to the Destin area so it was so nice to be welcomed by the owners who happened to have been there the previous week. They were so gracious and welcoming and even helped us move in. The view from this condo cannot be beat! So relaxing to gaze out at the sparkling 180 degree view of the gulf (??)while eating on the balcony or enjoying a sunrise or sunset. You can even view the gulf from anywhere in the living room and cooking in the kitchen while looking out at the gulf was a definite bonus. We loved being in Miramar Beach away from the bustle of Destin yet only a few minutes to get there. We spent two weeks at the condo and did not find anything lacking in this well stocked kitchen. The access to the beach was so easy, literally just steps from the condo with plenty of crosswalks. The boardwalk was an easy place to walk. The master bed was so comfortable that after the first night we both commented our backs did not hurt. My husband played golf right at the resort so that was nice not to have to drive far. It was obvious the owners had put a lot of thought into providing a beautifully decorated, comfortable place to stay. We will be back!
01/16/2020
Best vacation ever!
I highly recommend this place, beautiful, clean, comfortable, it has everything you will need to enjoy your vacation and make amazing memories ??
04/26/2019
Dining Room
Dining Table
Eat in Counter
Bathroom
Bathtub
Linens & Towels
Private Bathroom
Shower/Tub Combo
Walk in Shower
Hairdryer
Bedroom Extras
Private Bathroom
Alarm Clock
Cooling Comfort
Ceiling Fans
Central Air Conditioning
Disability Access Features
Single Level - No Stairs
Walk-in Shower
Entertainment
Big Screen TV
Cable TV
DVD Player
Snorkling
Swimming
Television
Smart T.V.
Games
Board Games
Reading Library
General
Linens Included
No Pets
No Smoking
Vacuum
Fitness Center
Condo
Elevator/Lift
Online Booking
Managed By Owner
Managed by Property Manager
Home Office
High Speed Internet Access
Meeting Room
Wireless Internet Access
Kitchen
Washer/Dryer
Blender
Breakfast Bar
Can Opener
Coffee Maker
Dishes
Dishwasher
Disposal
Fully Equipped Kitchen
Garbage Compactor
Ice Maker
Ironing Board
Microwave
Mixer
Oven
Pots and Pans
Refrigerator
Stove
Toaster
Utensils
Crock Pot
Outside Living
Community Pool
Outside Shower
Restaurants
Indoor pool
Gulf/Ocean View
Gulf/Ocean Front
Balcony
View (Water)
Beachfront
Hot Tub/Heated Spa
Parking
Covered
Parking Available
Bedroom Setup
1 King Bed
2 Bunk Beds
1 Sofa Bed