Majestic Sun: 907B Pelican's Perch
Majestic Sun Beach Resorts/907B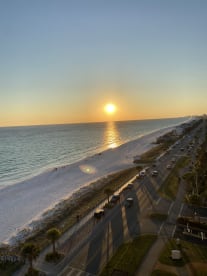 ---

My ECBYO Majestic Sun Listing
Description
This is a beautifully decorated 1 bedroom, 2 bath condo in the beautiful Majestic Sun on Miramar Beach.  Pelican's Perch has a king bed in the bedroom with a memory foam mattress, decorated in soft relaxing colors, and is a tribute to our sea turtles. There are bunk beds in the hallway and the living room is furnished with a queen-size sleeper sofa with a comfortable mattress.  You have ample seating for 6, including 2 recliners, a rattan chair, and 2 barstools.  Your dining table is a drop leaf, allowing for flexible seating for up to four people.  The master bath has a tub/shower combination and the hall bath has a shower, (both equipped with handheld showerheads) You also have a full-sized stackable washer/dryer.  The kitchen has beautiful Quartz countertops and is equipped with stainless appliances and all the small appliances one would need.  We have added more storage than can be found in most 1 bedroom condos.  The coffee table has a slide-out top where pillows and blankets for the sleeper are stored.  Our console offers more space to stash items.   In the kitchen, we have added a free-standing cabinet that also has convenient storage.  After many years of renting we knew extra storage was definitely a must when we purchased our own unit.  We know you will enjoy the relaxing, serene, atmosphere we have created.  Your balcony is furnished with a pub table with seating for 4, (no more peeking through the rails to see the dolphin playing), and a deck box where we have stored beach chairs for adults and littles. We also furnish 6 beach towels for your convenience and ask that our guests launder them before leaving so they are ready for the next guest because housekeeping does not have time to do laundry on turnover days. There are playing cards and board games to help keep your family entertained, wall-mounted TVs in the living room and bedroom, and a blue-ray player in the bedroom room.  The views from the kitchen, living area, and balcony are absolutely spectacular.  One couldn't get this view if we were located on the sand.  You have 180 degrees of totally unobstructed views, to the South, East, and West. There are several restaurants and bars within walking distance.  A well-stocked gift shop on the 1st floor that is very handy in case you forgot to pack a few necessities.  The resort has a large outdoor pool. Also, an indoor pool for our guests to enjoy if the weather doesn't permit going to the beach.  You will have access to 5 other pools on the Seascape property.  There are two hot tubs in the pool enclosure for your enjoyment. If you can't leave your workouts behind there is a fully equipped gym to use while enjoying a view of the beach.  You can enjoy free tennis, (court reservation required), and free pickleball.  There are two great restaurants. on the grounds, and several within easy walking distance. We think this is one of the absolute best locations to spend a relaxing week, or two, or just a long weekend.  Snowbirds are welcome from November through March.
Please Note:  Majestic Sun has a, strictly enforced, NO SMOKING policy.  Anyone caught smoking inside the condo, or on the balcony, will be fined.  The policy states you must be 50' from the building when smoking.
From/To
Nightly
Weekend
Weekly
Monthly
Min Nights
12/20/2023
12/27/2023
$192
--
$1,344
$2,950
3
12/27/2023
01/06/2024
$189
--
$1,323
$2,950
3
05/27/2023
07/01/2023
$321
--
$2,247
--
6
07/01/2023
07/08/2023
$329
--
$2,303
--
6
07/08/2023
08/12/2023
$321
--
$2,247
--
6
08/12/2023
09/02/2023
$225
--
$1,575
--
6
09/02/2023
09/05/2023
$255
--
$1,785
--
5
09/05/2023
09/30/2023
$225
--
$1,575
--
3
09/30/2023
10/14/2023
$235
--
$1,645
--
3
10/14/2023
11/04/2023
$225
--
$1,575
--
3
11/04/2023
11/18/2023
$192
--
$1,344
$2,950
3
11/18/2023
12/20/2023
$189
--
$1,323
$2,950
3
Refundable Damage Deposit:
$500.00
Deposits and Snowbird Pricing

We require a minimum deposit of 25% when booking with the balance due 30 days prior to check-in.  The fully refundable damage deposit of $500.00 would be due 5 days prior to arrival and would be fully refunded within 5 days of departure providing there are no damages or losses. 

Snowbird Pricing:  The price we are quoting per month is $2950.00.  This includes cleaning and taxes. We would require a 35% deposit when booking with the final payment due 45 days prior to occupancy.

 
Majestic Sun: Pelican Perch 907B
We had booked our vacation for 907B the week of Oct 6 through the 13th. To begin with, the condo is, perhaps, the most serene and peaceful unit I've ever rented. Walking in the door and looking out at that fantastic view, then taking in the calm atmosphere that is 907B, told me it was going to be a fantastic week. Everything we needed, the view, pots and pans, flatware, towels, etc. were neatly in place. We settled in for a wonderful week on the beach. However, nature decided to mess it up when Hurricane Michael began heading in our general direction. The evening before it came ashore we reluctantly decided we should leave. The owner exceeded our expectations at that point by offering to pay for a motel in Fairhope, AL for 2 nights. When we left we were not at all sure we were coming back but decided that we would go back for the 3 nights left of our vacation. It was just too hard to not finish our vacation, especially since we had been treated so well. Walking back in the condo felt like we were home again. This will, most definitely, not be our last trip and when we return it will be to 907B. Oh, did I mention the view? Cheryl R San Antonio, Tx
10/06/2018
Magestic Sun Pelican Perch 907B
This condo was so beautiful and so comfortable! My husband and I loved everything about it! The ocean view was completely amazing! We will definitely book this condo in the future.
03/06/2019
Spring Break 2019
My husband and I took our four granddaughters to Florida for spring break this year. This condo was very charming and beautifully decorated. Our girls, ages from 6 to 13, all had a wonderful time exploring, swimming and dolphin watching from the balcony. It was furnished with everything we needed to make our stay comfortable and enjoyable! We definitely will return to this condo in the future. It was an excellent choice for our vacation!
03/17/2019
907B
Majestic Emerald View of Ocean from balcony. Clean beautiful decorated.
05/16/2019
Amazing View and Vacation
We traveled from Illinois for our vacation this year. Pelicans Perch was everything we'd hoped for!! The view from the balcony is breathtaking any time of the day! Such easy access to the beach and amazing restaurants. The condo is beautifully decorated and so homey and comfortable! Joni was so easy to get in touch with and booking was a breeze. We have already recommended a stay here to several friends and family! Thank you so much for sharing a little slice of heaven with our family!
06/08/2019
Affordable + well kept beach front condo!
We stayed last week at this beautiful condo. All positive from our end. The kids loved the pool and their own bunk in the bunk beds. The gift shop in the main lobby in building B was very nice. The unit was right next to the elevator and trash chute, making it very convenient with our 3 kids. I appreciate your family letting us stay here, we will be back!
06/08/2019
Amazing
We had the opportunity to stay at Pelican's Perch. We loved the décor and the views were unbeatable in the morning and even though we were on vacation we got up to enjoy the sunrise every morning. The Condo had more than enough amenities for our family and even a spare guest for a few days. Walking distance to great food like an Acme oyster bar and an ice cream shop. with a little drive we were at a Wal-Mart to stock up on food to cook for ourselves. Truly, it began to feel like home the longer we stayed. easy access to golf and the pool was wonderful when you didn't want to deal with sand. There is a great gift shop on the bottom floor and the ease of access to all the things we wanted to do could not be overstated enough. you can truly see the care and attention to detail the owners up into the unit and making it unique. This was truly a vacation to remember.
03/25/2019
Vacation 2019
This was our first time staying here and it was amazing. We had everything we needed. The only thing we didn't have was a hair dryer, but other than that everything was great. The view was amazing and we had a great time!
07/08/2019
Amazing condo!!
My husband and I just finished staying at Pelican's Perch in the Majestic Sun at Miramar Beach, and it was GORGEOUS!! Joni was so warm and accommodating!! Very sweet lady! she has the condo very beautifully decorated and it was so cozy and homey feeling! The view is absolutely breathtaking! If you are thinking about staying here and are wondering about her pictures, they are completely legit! She was a big help from start to finish with the booking process! Thank you so much for everything Joni, we will most definitely be staying here again!
09/13/2019
Awesome condo - Awesome owners!
It is with regret that I write this review - regret that I am writing this from cold, snowy Ohio instead of from this beautiful condo! This was our first visit to the Destin area so it was so nice to be welcomed by the owners who happened to have been there the previous week. They were so gracious and welcoming and even helped us move in. The view from this condo cannot be beat! So relaxing to gaze out at the sparkling 180 degree view of the gulf (??)while eating on the balcony or enjoying a sunrise or sunset. You can even view the gulf from anywhere in the living room and cooking in the kitchen while looking out at the gulf was a definite bonus. We loved being in Miramar Beach away from the bustle of Destin yet only a few minutes to get there. We spent two weeks at the condo and did not find anything lacking in this well stocked kitchen. The access to the beach was so easy, literally just steps from the condo with plenty of crosswalks. The boardwalk was an easy place to walk. The master bed was so comfortable that after the first night we both commented our backs did not hurt. My husband played golf right at the resort so that was nice not to have to drive far. It was obvious the owners had put a lot of thought into providing a beautifully decorated, comfortable place to stay. We will be back!
01/16/2020
Best vacation ever!
I highly recommend this place, beautiful, clean, comfortable, it has everything you will need to enjoy your vacation and make amazing memories ??
04/26/2019
??????????
We had a week reserved at this condo before the coronavirus hit- I'll beaches were close so we were forced to have to cancel our trip- The owners were absolutely amazing! They issued us a full refund including our deposit with no questions asked and even offered to book with a discount for a later date! This has been the best communication I have ever received from any resort we have ever stayed at! Top-notch quality communication! Would highly recommend anyone to book at this condo! We will be staying here as soon as the beach is open!!
03/15/2020
Amazing Condo
This is my third visit to Merimar Beach, this condo was great! Beautifully decorated and had all the little touches plus a great view. I loved dealing directly with the owners they were great! Definitely recommend. Will be back
07/06/2020
Our 3rd stay here
Our family loves staying at this unit at Majestic Sun. This unit is always being upgraded and is well looked after. We think of Joni (the manager) more like family than an owner. We love the complex and all there is to do here and wouldn't dream of staying anywhere else.
09/26/2020
Great place!!!
You know what they say about real estate "location, location, location" and this is a great one!!! The view of the Gulf is spectacular any time of the day. Sunsets are beautiful. The condo itself is amazing and decorated beautifully. Loved that it had 2 bathrooms-one with a tub and shower and one with a shower stall. Made it great for me and my aunt to get ready at the same time. We were there in late September and the beaches were not terribly crowded. Easy driving distance to grocery stores and restaurants. Condo was spotless. Will definitely go back!!!
09/22/2020
Great Condo
This condo is amazing with the wonderful view from the balcony and the sounds of the waves washing up on the beautiful while sand beach. It is furnished with very stylish furniture, yet is so comfortable and homey you feel like you want to kick off your shoes and stay awhile. The condo is in a great location with grocery shopping as well as outlet mall and souvenir shopping close by. We really enjoyed our stay at Pelican's Perch and hope to return very soon.
09/22/2020
Beautiful Condo
My niece and I needed a relaxing trip to recharge our batteries, so to speak. We stayed at Pelican's Perch and had a wonderful, relaxing 5 days and 4 nights there. Everything was just perfect! The condo was spotlessly clean and the furnishings were so pretty and the colors used were very spa like! We couldn't have picked a more perfect place to take a short get away from the stress of everyday life. Sitting on the balcony overlooking the white sandy beach and hearing the waves hit the shore was just what we both needed! The sunsets were indescribable! We enjoyed every minute of our stay. The owners were helpful and let us know some of their favorite restaurants and directions to a grocery store and shopping places. The condo is well equipped with dishes, silverware, glasses and pots and pans for cooking. We were very pleased with our stay and hope we can go back and stay longer the next time!
09/23/2020
Christmas Getaway
We spent several days at Pelican's Perch and loved every minute. The mood was set when we opened the door upon arrival-lights on and music playing. SO inviting! Great location! We had everything that we needed for a welcome week of relaxation. Great way to end 2020! We will be back!
12/08/2020
Wonderful Stay!
Wow! So much to say about this condo! To begin, it is sooo pretty! I am aself admitted clean freak and want to be in comfy, beautiful surroundingsand this unit is all that and more. The king bed is super comfortable and myvoice came to visit for a weekend and slept on the bottom bunk bed and saidit was great, so prepare to get some good rest. The kitchen is well stocked,with plenty of appliances. The owners are kind enough to have a few rolls totoilet paper, laundry soap and dishwasher tabs, so it helped us until wecould get our supplies (we were here for 2 months).The view!!! The view!! That alone was worth staying here...a full sunrise tosunset for us, so we spent a lot of time on the balcony. It is situatedperfectly with plenty of restaurants and bars to choose from...all withinwalking distance (Whale's Tail, Cabana Cafe, Bad Ass Coffe, the Beach Barwith bonfires...lots more!). Not only is there a great view of the beach,but dolphins were out in front almost everyday. We even saw a shark swimmingin those clear emerald waters! (Bring binoculars!!) The beach is just acrossthe street with EASY access and the building has both indoor (heated)andoutdoor pools as well as 2 hot tubs. We never had any issues with the condoor building and needed to co tact the owners, but Joni was in touch a fewtimes just to give us any info we needed, so we really appreciated that.We will DEFINITELY be staying here again and for anyone else considering it,dont even hesitate to book here! Beautiful condo, gorgeous views, secure building, comfy, and plenty to do in the area!!
01/05/2021
Great Week!
What a beautiful condo!! From the moment you walk in, the condo feels so warm and welcoming. It is so beautifully furnished. The kitchen was well stocked (even had plastic storage bags and aluminum foil with a note that said use what you need). What a thoughtful touch! We enjoyed sitting out on the balcony. The high top table and chairs gave a great view above the railing. Joni was so easy to work with and accommodating. Destin is our "happy place". We hope to return again soon and would definitely stay at Pelican's Perch.
03/21/2021
Fantastic Condo and Host!
Admittedly, I wasn't sure about renting a condo. Our family has never rented one before or used a site like this and were nervous. But this ended up being one of the best experiences we've ever had! Joni was prompt and professional and didn't mind answering all of my questions. She was super responsive and made the trip enjoyable. The unit itself was AMAZING!!!! It was super clean and had every amenity necessary. Also, you'd be hard pressed to find a place with a better view! We were literally steps away from the beach. We didn't have to hassle with parking and lugging beach gear everywhere. All we had to do was walk about two hundred steps! Also, the location of the unit itself was great. Initially we thought about being closer to the "downtown" area of Destin but are so glad we chose this spot. The beach was great and the crowds were not bad like they are towards the marina area. We would do it again!
03/27/2021
Anniversary getaway!
My husband and I are spending the last of 5 nights here celebrating our 20th anniversary. We travel quite often, both domestically and internationally. We very often travel in large groups and utilize vacation rentals for convenience and amenities (washer/dryer, kitchen, etc.) Pelicans Perch is amazing. While it is only the 2 of us this time, we will be returning with our family. The hallway bunks are a great for kids/teens and the view can't be beat. When I say that they thought of everything.... they have. Besides having plenty of dishes, there is also a crackpot (yes! So easy to pop in a meal and head off to the beach!) And a blender!! But that isn't all... they also provided a complete start up with more than enough toilet paper, dish detergent, laundry detergent, trash bags... even an electric float air pump!! There is more then enough towels, beach towels and wash cloths. The bed is super comfy and the bed linens are nice. Did I mention all the hooks in the hallway, bathroom, inside the shower? More than enough to hang loofah, wash clothes, etc. Loved the soft music playing when we opened the door too. It was such a pleasure booking with Joni, we can't wait to return!!
05/15/2021
The view says it all!
Our family has just returned from a wonderful week at the pelican perch. We really enjoyed our stay. Joni is a great host she is very kind and quick to answer any of your questions. The condo is decorated so cute but that view absolutely sold us, we didn't want to leave. Destin holds a special place in my heart it's a gorgeous place to visit. It's so much more relaxing when you know your in a place that is kept neat and tidy, also helps that the host makes you feel very welcomed. We hope to be back next year to this amazing destination. Thanks a lot Joni for sharing your condo with our family!!
07/19/2021
AMAZING!
Owners are amazing. View is absolutely gorgeous. Condo is perfect. Nicely stocked with supplies use frequently like trash bags. Had amazing time even with hurricane rolling through Louisiana. Water cleared up in a couple days. My mom and I had an amazing week. Oh and did I tell you that the owners are awesome?
08/28/2021
Perfect.. beyond all expectations
I hate to leave this review.. cuz it means I might not get in when I want to next time! I had been looking for a place for an entire week before pelican perch popped up on my search. I couldn't believe it! Everything we wanted and needed for such a great price. And Joni is so available all the time for any reason! The condo has everything one needs.. every possible cooking utensil, crock pot, toaster, blender, stove, coffee maker, washer dryer etc etc.. and I could look at the 9 th floor view all day long.. everything was pristine clean and my husband thanked me and thanked me for finding it.. he's never thanked me for anything THAT MUCH.. HE CAN'T WAIT TO GO BACK AND HE HATES TO TRAVEL.
09/12/2021
Wonderful condo w/incredible view!!
Pelicans Perch exceeded our expectations for a beachfront condo. It was furnished with everything we needed for our stay and more. The view from the balcony was just beautiful. Access to the beach was just steps away from the front of the building. Joni was an exceptional host. She is always responsive and caring. We felt like family by the end of our booking and stay. We can't wait to return and will definitely recommend this condo to friends and family. Thank you Joni and team for our lovely week at Pelicans Perch.
10/02/2021
Beautiful condo amazing host
Pelican's Perch is the perfect condo with an amazing view! The condo felt like home the moment we walked in. The lights were on and music was playing which made for a warm welcome. The condo is clean and beautifully decorated with furniture that truly feels like home. Joni was an amazing host and kept in touch through the rental process. This was our first visit to Miramar/Destin and we had an amazing time. December is a great time to visit and it was fun to see all the Christmas lights/ decorations in the area. We highly recommend the Pelican's Perch and look forward to staying here again in the future!
12/04/2021
Christmas in Florida
Our December 2021 stay in 907B was wonderful! The condo was very clean & well stocked. Joni was great to work with. The view from the balcony was awesome! We even got to see some dolphins. The sunrises & especially sunsets were a thing to see! We were careful about eating out due to Covid & always enjoyed our meals outside by the ocean at the many local restaurants. We especially enjoyed Pompano Joe's. Also, enjoying meals on the condo balcony with a view of the ocean was spectacular. It was really fun to see palm trees in December and Christmas trees decorated at the malls. The weather was fantastic except for a few mildly chilly days, which still weren't too cold to take walks. There are many restaurants, stores, and malls nearby, most within walking distance. Our son, daughter, & grandkids were able to stay with us for several days at different times during the month & enjoyed their time there immensely. Joni kept the lines of communication open & was available if needed. We would do this again without hesitation. Thank you Joni & family!
12/05/2021
First time snowbirds
My husband and I stayed for four weeks in January/February 2022. We absolutely loved the condo, especially the balcony. We spent many hours sitting on that balcony! Since we were there for four weeks we were able to go to Gulf Breeze Zoo, Rosemary Beach and 30A, Gulfarium, and several State Parks. The condo is convenient to the restaurants. We liked Surf Hut, Crab Trap and Pompano Joe's. Our two favorites were Boshamps and McGuires. Joni was so helpful and kept in touch with us frequently. We like it so much we've already reserved four weeks next year.
01/15/2022
Beautiful retreat
This condo is perfectly decorated with a relaxing atmosphere. I was elated at all the basics that were already there. I added to the supply with what I had brought with me. Love the idea of leaving unopened pantry items for the next guests. It felt like home!
03/16/2022
First time snowbirds!
Our stay for a month in condo 907B was a pleasant experience that we plan to do again in the future! Upon arrival, after a long day of travel, we were greeted by everything needed for a very comfortable stay. The condo was extremely well equipped with kitchen and cooking supplies. There was a book with many menus from restaurants to assist with eating decisions as well as one with general information. Time was spent playing golf, shopping and just relaxing by enjoying the beautiful view from the balcony. Joni was so easy and pleasant to work with. Due to an unexpected illness with a grandson, we were delayed a couple of days in arriving. Joni graciously offered us an additional stay of two days, which we were able to do. We would definitely recommend a stay with Joni and family at 907B, Pelican Perch! We loved every minute! Thanks again!
02/14/2022
Wonderful Condo
My family and I recently stayed here. This condo has AMAZING views! It was nice to have the ocean right in front of you while cooking. It was perfect for our family. We loved the extras that were provided (sand toys,games, boogie boards,etc). Condo is very clean and has great storage space. My kids loved the hallway bunkbeds. The beach is literally right across the street. It's very easy access. Very convenient with children when you need to run back up to the room for something. It is within walking distance to several restaurants. There is also a really nice gift shop located downstairs which was also really convenient. The owner Joni is wonderful. She made sure we had everything we needed. Super easy to communicate with. I highly recommend this condo. I've actually sent it to several friends already that are looking in the area. We had a great experience and definitely plan to return!
04/04/2022
Nothing more you could ask for!
This was my third or fourth time in Pelican's Perch and I will absolutely continue to stay here in the future. I have stayed with and without kids. Perfect location in Miramar in a great resort complex, very recent updates to the condo, lots of amenities and extras provided, and extremely clean! The master bed is very comfortable. Kids love the bunks! Couldn't ask for better hosts. Communication with them is a breeze. If you're trying to choose between this one and another- pick this one! You won't be disappointed.
06/08/2022
Family trip
This was Our first time staying at pelicans perch but it will not be our last. The location was great, the views were amazing, and all the extra touches by the owners make it that much more special. Our kids enjoyed every moment of our trip, and there was never a dull moment. We had so many food recommendations it was hard to pick every night. You can not beat the beautiful balcony view.
06/18/2022
Best trip to Florida!!
My family and I have been to Florida on multiple occasions but this one tops it all! We spent a whole week at 907B pelican purch and I tell you it was the most inviting place I've vacationed in from the time we walked in the door we had some music playing and the absolute best cupcakes Ive ever eaten on the counter for us with a very sweet welcoming note. Just about everything you need is provided there was beach towels, sand toys , beach chairs a pump for floaties and so much more! And anything I needed or questions I had Joni was just a txt and call away and was on top of everything. The absolute best people to rent from!! And an absolute beautiful condo!! I have nothing but good things to say about this place we will definitely be back!!
06/25/2022
We will be back
We walked in to an amazing view. Our one year old had a blast! There are games available for rainy times. Master bed is perfect for me, firm and conforms to your body. I have to brag about the communication with Ms. Joni. It was top notch, could not have asked for better. We have been coming g to Destin for 8 years now and this was the best communication we have had. Looking forward to next year!
07/16/2022
Look no further
Look no further, because you won't find a vacation condo that meets the high standards of Majestic Sun 907B. This place has it all. Incredible view, wonderful decor, all the comforts of home and a lot of extras you don't get at other places. For example, wine, cupcakes, very comfortable furnishings, a very well equipped kitchen and a hostess that is absolutely incredible. This condo was very clean, and so was the property. Great location and easy to access. We hated to leave. This is one of the Best vacation condos ever and we have rented several over the past 40 years we have been to Florida. Wish we could give it 10 stars.We will definitely be back.
09/03/2022
Upon opening the door….
We were in a nautical world upon stepping into this incredible condo. The hallway lights were like the swirling of the gulf water. To the right the bed looked cozy. But walking into the kitchen/family room you're immediately feeling beachy. Such a cozy place to relax, enjoy life, and reflect. Pelicans perch is the perfect place to sit with a glass of wine and watch the sunrise and set. We loved watching Dan the Sandman building castles. Just breathing in the fresh gulf air on the balcony. Joni's a wonderful host and this condo has everything imaginable. Even some foods in the cabinet. I highly recommend you to soak up the sun from Pelicans Perch. We will be back.
12/11/2022
907B Pelican Perch
Our stay was great loved it Our trip was 7weeks in Florida and the highlights were definitely staying at Pelican Perch and Destin Florida. The information book you Had prepared for us was a huge help. Thank you all for a wonderful trip.
12/26/2022
Snowbirds part 2
We stayed at Pelican's Perch again as snowbirds this year. As before, Joni made sure everything was taken care of for us. She is 5he most responsive owner we've ever had. It was a beautiful 4 weeks that took us away from our "normal" responsibilities and brought my husband of 47 years and I closer. We have already booked next year. The condo has everything you need. Just about every evening I took pictures of the sunset. I am slightly obsessed with the view. My husband asked me several times if we could stay another week but someone else had already booked it! Love the Bad Ass coffee shop (within walking distance) Surf Hut (right down the road) and many other nearby restaurants. You can't go wrong!
01/28/2023
Absolute perfection!
Pelican Perch is the perfect little getaway! The decor of this condo will transport you to a tropical destination. Everything from the bathroom to the main living room will give you all the beach-y vibes! The entire condo is well stocked with everything you need or want for your stay. There is even the added little touches of beach chairs and boogie boards for your convenience. It was truly an amazing stay here, and we will definitely book 907B again!
04/01/2023
Celebrated 40 years of marriage!
This was the second stay at Pelican Perch. We have always loved this condo! The updates were just beautiful! Joni is the best! We arrived to a surprise for our anniversary, mimosas! Joni has always been so kind and helpful. We will return to 907B ! The view is spectacular and you are within walking distance to restaurants and stores.
05/08/2023
Amazing Ocean View
This place was lovely! It has everything you need for the beach and a great view. Clean and welcoming. Joni was great to work with.
05/12/2023
Pelicans perch
The perfect place to visit for a weeks stay . The beach is conveniently right across the street with a beautiful unobstructed ocean view . So many thoughtful accommodations from the hosts as well as great communication. This is our 3rd time at the pelicans perch and after our first stay we have told ourselves there is no where better to stay while I'm Destin !
05/20/2023
Dining Room
Dining Table
Eat in Counter
Bathroom
Bathtub
Linens & Towels
Private Bathroom
Shower/Tub Combo
Walk in Shower
Hairdryer
Bedroom Extras
Private Bathroom
Alarm Clock
Cooling Comfort
Ceiling Fans
Central Air Conditioning
Disability Access Features
Single Level - No Stairs
Walk-in Shower
Entertainment
Big Screen TV
Cable TV
DVD Player
Fishing
Golf
Scuba
Snorkling
Swimming
Television
TV/VCR
VCR
Video Library
DVD/VCR
Smart T.V.
Games
Board Games
Reading Library
General
Linens Included
No Pets
No Smoking
Vacuum
Fitness Center
Condo
Elevator/Lift
Managed By Owner
Home Office
High Speed Internet Access
Meeting Room
Wireless Internet Access
Kitchen
Washer/Dryer
Blender
Breakfast Bar
Can Opener
Coffee Maker
Dishes
Dishwasher
Disposal
Fully Equipped Kitchen
Garbage Compactor
Ice Maker
Ironing Board
Microwave
Mixer
Oven
Pots and Pans
Refrigerator
Stove
Toaster
Utensils
Crock Pot
Outside Living
Community Pool
Outside Shower
Porch Furniture
Restaurants
Indoor pool
Gulf/Ocean View
Gulf/Ocean Front
Balcony
Beach Chairs Provided
View (Water)
Beachfront
Hot Tub/Heated Spa
Parking
Covered
On Street
Parking Available
Parking for 2 cars
Bedroom Setup
1 King Bed
2 Bunk Beds
1 Sofa Bed