Majestic Sun - 307B
* NO EXTRA FEES *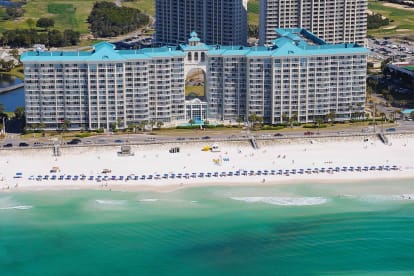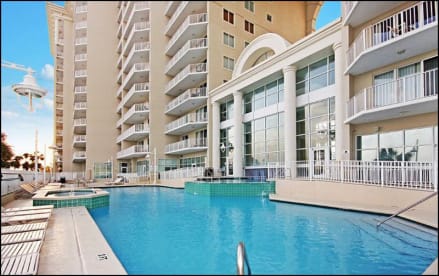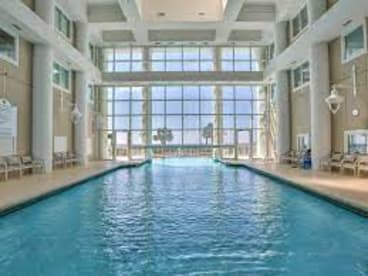 ---

My ECBYO Majestic Sun Listing
Description
The most gorgeous view awaits you in this thoughtfully decorated 1 bedroom, 2 bathroom vacation rental in the beautiful Majestic Sun on Miramar Beach. Soft relaxing colors and bespoke décor provide the atmosphere for a truly tranquil getaway that was planned start to finish in the recent full renovation. You will find a comfortable, beautifully decorated living area with ample seating for 6, where you can admire the beauty of the gulf, sunrise to sunset. The kitchen is fully equipped with all the stainless-steel appliances you would need for a home-cooked meal, which you can enjoy at the dining table or the breakfast bar. The master king suite offers a brand-new bed, an HDTV, and private bath with custom closet. The built-in bunkbeds in the hallway offer 2 more places for guests to sleep and the queen size sleeper sofa in the living-room rounds out the sleeping for 6. Washer and dryer can be found in the hall bathroom, along with another custom closet for more storage space.   Wake up and enjoy your morning coffee while taking in the beautiful sights of Summer from your private balcony or take a stroll on the beach. With this rental, you are provided with two beach chairs and an umbrella in your condo that you can take to the beach, in lieu of spending $40 a day using the local beach service operator.

At Majestic Sun beach resort, you can spend your days indulging in several amenities, including an indoor pool (heated in winter), outdoor pool, two hot tubs, Gulf facing fitness center, and more. With easy beach access, you can simply stroll across the street to the beach and lounge on the sugar-white sands or try some fresh seafood from any of the restaurants within walking distance. Majestic Sun is part of the Seascape Beach Resort and is centrally located within minutes of a beautiful 18-hole golf course, Destin Commons, Silver Sands Outlet Mall, Grand Boulevard, parasailing, waverunner rentals, kayak rentals, and more!

**Please note Majestic Sun has a strict NO SMOKING policy. Anyone caught smoking inside the condo or on the balcony will be fined. Policy states you must be 50 feet from the building.



 
From/To
Nightly
Weekend
Weekly
Monthly
Min Nights
07/03/2022
07/08/2022
$299
--
--
--
5
07/09/2022
08/05/2022
$285
--
--
--
2
08/06/2022
09/01/2022
$210
--
--
--
4
09/02/2022
09/05/2022
$229
--
--
--
3
09/06/2022
09/23/2022
$209
--
--
--
6
09/24/2022
10/07/2022
$219
--
--
--
6
10/08/2022
10/31/2022
$209
--
--
--
6
11/01/2022
11/20/2022
$191
--
--
--
2
11/21/2022
11/26/2022
$211
--
--
--
3
11/27/2022
12/15/2022
$191
--
--
--
2
Cleaning/Parking Pass:
$140
Refundable Damage Deposit:
$300
25% due at time of booking and remaining balance due 30 days prior to arrival.  

Snowbird Rentals:  $2400 month (includes cleaning fee, taxes, and up to 2 parking passes).   
Best of Majestic Suns

"This is BY FAR our favorite unit in Majestic Suns!!! We are repeat customers and will be back every year! If you're thinking about booking at Majestic Suns, definitely check out 307B. It's everything you could hope for, impeccably decorated, has beautiful beachfront views, is immaculately clean, and I can tell the owners constantly update and refresh it as each time we stay there they have added new things. After staying in other units, and having friends and family stay in others, I can honestly say that none of the others compare. I felt at home during our entire stay! Accessibility is also really great here, there are several restaurants within walking distance, you won't spend much time in your car. We have no recommendations or complaints, it was the perfect venue for the vacation that we have worked so hard for all year. Can't wait to return next year. "
06/07/2021
307B Majestic Sun

"Absolutely gorgeous unit! Light and airy with the perfect beachy feel that you'd hope for when staying at the beach. A group of us stayed here and this was by far the best unit of the group with updated appliances, ample sleeping and seating, a beautiful beachfront patio, and comfortable beds! Not only was the unit beautiful but we highly recommend this property, it is conveniently located and is walking distance to several restaurants. As someone who has visited beaches all over the world, I highly recommend this unit, property, and beach. We will definitely be back. "
08/15/2020
July 2020 Stay

We had the most amazing stay in Destin! This condo was absolutely perfect for our family of 4! Majestic Sun is such a great location to be close to so many great restaurants and stores. The quick walk to the beach was definitely our favorite part of the trip! We were so sad to leave and already dreaming about our next trip there!
07/28/2020
307B

" The property was very clean. The only complaint we have was the trying to figure out the TV in the living room. However we would stay there again."
05/03/2021
307

"Comfortable, clean and beautifully decorated condo. Had a great week and would rent this unit again."
10/27/2019
307B

"This pretty unit is well kept and very clean, with a great view of the beach. It had everything my husband and I needed for the week. We found the beach and area around Majestic Sun extremely busy; I assume it might be busier in the summer months. We were looking for a less hectic setting, but if you have children and teenagers it might be perfect for you! I would love to place this unit in a different complex with less total units. We will visit this unit again in the winter months!"
10/18/2020
Majestic Sun 307B

"I was very happy with the condo. The condo was clean and nicely decorated. There was just the right amount of furniture nit too cluttered. The bed was comfortable. The complex itself was very clean. The management company was very helpful and great to work with. And the view was amazing. I would recommend this condo "
10/06/2020
B307

"This was a perfect space for our family of 4! The space was bright, airy, and a perfect beach paradise! We loved being able to sit on the balcony in the morning with our coffee to watch the ocean and listen to wave crash! You are in the best spot in Miramar with access to so many restaurants and shops! "
08/12/2020
B307

"The condo was just as nice as the pictures. Everything was clean and worked properly. We had no problems with parking, beach, or pool access. I would stay there again. "
05/27/2020
307B

Nice condo. Very clean. Well equipped. Small closet space in bathrooms. The only negative the hall light did not work. Probably burned out bulb.
03/01/2021
Majestic Sun 307B
The condo is in the absolute perfect location! We sat on the balcony for hours just looking at and listening to the ocean. It was so great to be able to walk right across the street to the gorgeous beach and I was thrilled they had beach chairs and and umbrella in the condo, even a cooler! Condo was equipped with everything we needed and was very comfortable. We will definitely be back to Destin!
09/08/2021
MS 307B
My wife and I had a great experience staying in Majestic Sun 307B in Miramar Beach, FL. The location is very convenient, a short walk to good restaurants and attractions. The apartment fully met our needs. Thanks !!
08/30/2021
307B Majestic Sun
This condo is beautiful!! The only downfall is that there weren't any closets for hanging clothes, but that was no biggie. We did have a little ant problem, but maintenance took care of that. One of the best things I liked about the condo was how good the beds slept!!! I slept so good every night!! A couple nights I slept on the bottom bunk beds because my babies took over the King, and the bunk slept just as good! I meant to look at the mattress brand and forgot! This condo is in a great location too!! So many things close by. And my babies loved the swimming pool. Also, there is a gift shop that has everything beach! I was expecting this place to be overcrowded on 4th of July week, thought we would have to wait on elevators and everything, but this was not the case, almost every time, we got straight on elevators. Great place and nice condo!
07/12/2021
307B Majestic Sun

"I enjoyed the condo, it was beautiful."
09/23/2021
Great Stay
Our family of 4 enjoyed our stay. Great location, with a beautiful view, and within walking distance to stores and restaurants. Clean and beautifully decorated. We were sad to go.
09/23/2021
Majestic Sun 307B
Your condo was absolutely beautiful and the location was perfect! We loved that we were able to walk out the door and be on the beach in less than 5 minutes. The chairs and umbrella that you provided were a plus as we had forgotten to pack our chairs. Thank you so much for a wonderful stay! We look forward to coming again!
09/26/2021
307B Majestic Sun
Perfect location. Clean and secure. Beautifully decorated. Even though a very large complex still felt very private.
09/05/2021
307B Majestic Sun
We stayed here for fall break with our 3 children ages 5, 9 & 10. It was perfect! The condo was beautiful and stocked with everything needed to prepare meals on days we didn't eat out. Plenty of kids at the resort for them to play with at the pool and it only took about 5 minutes to get our feet in the sand on the beach. Very convenient! We will definitely be back.
10/02/2021
Totally in LOVE!!
This was our first trip to Destin! We rented this condo and we fell in love with it the moment we walked in, this place has the most amazing view!! Every morning and every evening we enjoyed the the balcony! The condo was so clean and very tastefully decorated!! I had to pinch myself to make sure it wasn't a dream for me!! I HIGHLY recommend staying here!! I plan to be back in the fall of 2022! A B~I~G THAK YOU to owners for allowing my husband & I the privilege to rent there gorgeous condo!! See ya in the fall!!
10/16/2021
Great stay!
We stayed during thanksgiving and celebrated our wedding anniversary. It's a great condo! We had plenty of room and 2 bathrooms was an added bonus as was the washer/dryer. The condo is close to restaurants, shopping, and things to do. The handwritten card and chocolates for our anniversary was an incredible touch and so appreciated!!!
11/24/2021
A month of memories
We entered 307B on January 1st and didn't stop smiling until our departure January 31st. Spotlessly clean and well equipped. Beautiful restful colors and a view that made us forget the freezing temperatures and snow we left behind in Canada's capital. The condo is ideally located close to shopping, restaurants, golf and groceries. All in all a most enjoyable month. Thanks Jason and Regina.
01/01/2022
Fantastic February
We just left a month at 307B at Majestic Sun. I miss it already! This condo is just amazing, so clean, everything you would want or need- and the view is to die for! The proximity to groceries, restaurants, shopping ( very nice gift shop on site!) really walkable. This year the weather also cooperated in February- so we were in heaven. I totally expect to be back and thank Jason and Regina for being the very best hosts.
12/31/1969
An amazing vacation!
We had such an amazing time staying here. The condo was very clean and the hosts were fantastic! We have been to Destin many times and we have not found the perfect place to stay until we stayed here. We will continue booking through these fantastic hosts. Great location and a beautiful view. We are already planning our next trip.
03/26/2022
Perfect Condo!
We enjoyed our stay in this condo. Jason and Regina are the perfect hosts. Very attentive to their guests and quick responses to text messages or emails. The condo was clean and ready for our arrival. We will definately be staying here again. Thank you!
05/05/2022
Amazing condo/Amazing views
This condo is amazing in every aspect. It was spacious enough for our family of 4. Kitchen was fully stocked, washer and dryer a plus. Location to the beach was a lot closer than I expected from reviews. Shortcut from lobby gets you there within minutes. The views from the balcony couldn't be better. Plenty of restaurants close by. The host is available within seconds from a text. Could not be happier. We are already planning our return trip. Can't wait!!
05/15/2022
Moon Crush - 307B
It was great. Had everything we wanted or needed. Comfy clean and charming decoration. Location and comfort were what we really enjoyed about this condo! We would definitely stay here again.
04/21/2022
June 2022
I highly recommend this condo. We come to Destin every year and It was perfect for my family of four and my sister in law who visited a couple of days. It's located close to everything and has a beautiful view of the beach. There is restaurants close by you could walk to. It had everything we needed and the owners were so nice. They kept us updated through the whole process. The store downstairs is convenient if you need something quick. I highly suggest this condo. We will definitely be back.
06/18/2022
Bedroom Setup
1 Bunk Bed
1 King Bed
1 Sofa Bed
Bathroom
Bathtub
Linens & Towels
Private Bathroom
Shower/Tub Combo
Walk in Shower
Freestanding Bathtub
Hairdryer